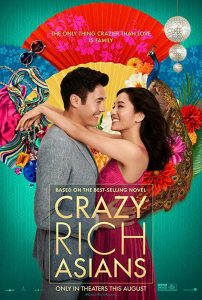 Movie Review by Fr. Tom Condon, O.P.
Crazy Rich Asians has generated a lot of buzz this summer for two reasons:  First, it's the first major studio film in memory which features an all-Asian cast. Second, many have wondered if it can bring back the genre of romantic comedy ("rom-com"). Once a main stay of the American cinema, rom-coms have become increasingly rare in the last few years, with the exception of such recent independent films as last year's The Big Sick.
Crazy Rich Asians has become a big late summer hit, so it may well inspire other rom-coms. In the last couple of years, in which Hollywood, after much criticism, has increased its output of ethnic films, Crazy Rich Asians certainly indicates that there is an audience for Asian movies.
Crazy Rich Asians, based on the novel by the same name, is rather formulaic in its story. Rachel (Constance Wu) and Nick (Henry Golding) are a couple living in New York. Nick tells Rachel that he is going back home to Singapore for a wedding. He invites her to come with him. Rachel agrees, thinking it would be a good chance to see her college roommate, who lives there.