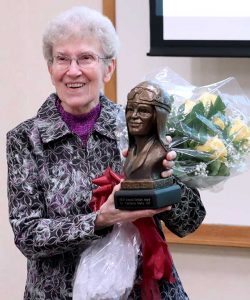 March 10, 2020, Adrian, Michigan – Sister Carleen Maly, OP, Director of Adrian Rea Literacy Center for 11 years, received the Amelia Earhart Award March 5, 2020, for her pioneering work in empowering both women and men through her literacy work.
The award was bestowed by the Zonta Club of Lenawee County, one of more than 1,200 Zonta clubs in 60 countries. Founded in 1919, Zonta International works to "advance the status of women through advocacy and service," according to Liliane Haddad, a member of Zonta of Lenawee County.
The Amelia Earhart Award is presented each year to a woman with the same pioneering spirit as the aviator, the first woman to fly solo across the Atlantic. Earhart (1897-1937) was also a member of the Zonta Club of Boston.