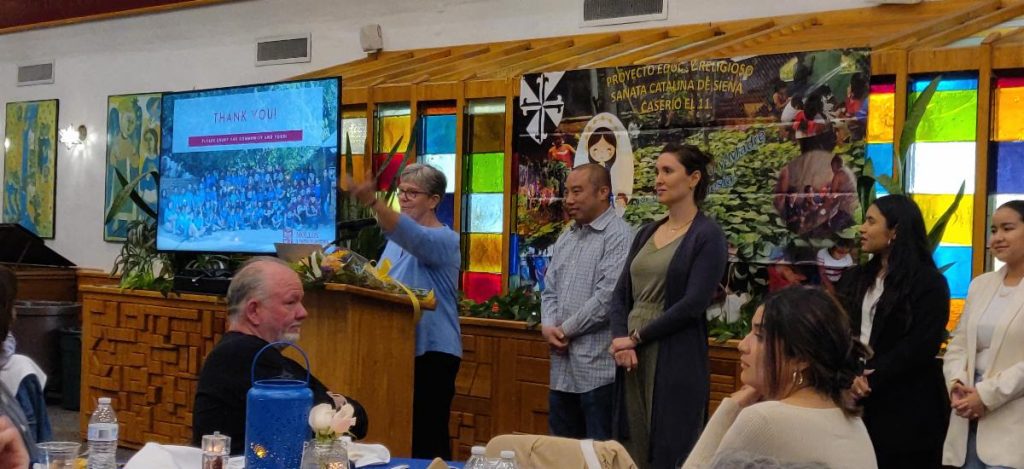 In April, more than 75 Molloy University alumni and friends gathered at an event called the "Hope Sol Naciente Experience" at Kellenberg Memorial High School in Uniondale, NY. The friends and our Sisters shared stories about mission trips to El Salvador and raised funds for ongoing projects in the villages of Once and Sol Naciente. (Molloy University was founded by the Dominican Sisters of Amityville.)   
Students from Molloy University in Rockville Centre and Dominican University, Orangeburg, NY, have been attending service trips to help run summer camp for the children there for almost ten years. "I was quite humbled by the event," said Sister Diane Capuano, a member of the Leadership Council as well as former campus minister at the college. "This is my heart….I am just so proud of these young people. I'm getting old, I am the abuela now," she laughed. "But the mission continues with these young people….We (sisters) can't do all of the work anymore — particularly, running the camp, kicking balls, lifting kids: we need young people for that!"
For the past few years, Molloy alumni have worked to create a non-profit to help stay connected, fund projects, and aid families in El Salvador. Organizers of this fundraiser include alumni: Joseph Marino, who works in business, Eddie Cramsie, an accountant, Mary Roedig, a nurse, and Jeffrey Lozano, a teacher at St. Martin de Porres Marianist School in Uniondale.
During the event, current Molloy students gave presentations on their experiences with the mission trip. One student is now considering a career as an immigration lawyer. Michelle Martin — who attended the mission trips as a student now leads the mission trips as the Campus Minister of Molloy University. 
At the event, alumni honored Sister Flor Buruca with the Founders Award since she founded this ministry. "They gave this award to Sister Flor because they consider her a saint, really and truly," gushed Sister Diane. "This award is for her ministry and who she is to the people there and to these young people, and the many lives she's changed by simply being who she is." 
Sister Diane received the 2023 Service Award at the event, for her years of service in El Salvador leading mission trips and so much more. 
Sister Diane also received a gift from the children of El Salvador. Sister Flor carried it on her lap on the plane from her homeland. It was a basket with a balloon and homemade flowers with messages from the children: "Te Amo" and "Thank you, Hermana!"
"This is my greatest joy," said Sister Diane. "My heart is bursting with pride. To be just one little speck of this is humbling."