July 2, 2018, Adrian, Michigan – The work of two distinctive Adrian Dominican artists – Sister Aneesah McNamee, OP, and Sister Alyce Van Acker, OP, – will be showcased in an exhibit, 'Soliloquies: Two Voices,' beginning Saturday, July 14, 2018. The exhibit at INAI Gallery runs through Sunday, October 28, 2018, with an artists' reception from 3:00 p.m. to 6:00 p.m. Saturday, September 8, 2018.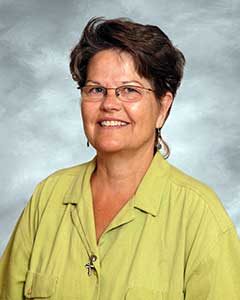 Sister Aneesah, a freelance graphic designer, traces her longtime interest in art to her early habit of drawing on the walls of her childhood homes. A calligrapher as well as a graphic designer, she counts among her most significant works the design of the book Drawn by Love: A History of the Dominican Sisters of Iraq. In her current work, Sister Aneesah continues to use images and words to convey clients' messages. "I turn those words, images, and ideas into beautifully created pages that tell a story," she said.
Sister Aneesah holds a Master's of Fine Arts Degree in Graphic Design from the Savannah College of Art and Design, Savannah, Georgia.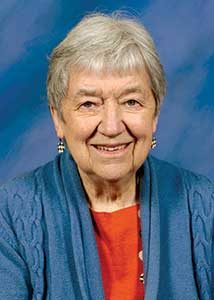 As a math and science teacher, Sister Alyce never lost her earliest interest in art. She nurtured it during art classes and workshops she attended after teaching and on the weekends. She even transformed her father's garage into an art studio. Sister Alyce and her sister opened an art gallery in Geneva, Illinois, to showcase their own artwork and that of other artists. Later, she joined Fine Line Creative Arts Center in St. Charles, Illinois, where she has taught art and has exhibited artwork for years.
"Color captivates me," Sister Alyce said. "I'm continually learning more about it because each painting is a journey, an inspiration."
Sister Alyce earned her Bachelor's Degree in Fine Arts from Siena Heights University in Adrian and a Master of Arts Degree in Painting from Northern Illinois University, DeKalb, Illinois.
INAI Gallery is adjacent to Weber Retreat and Conference Center, on the campus of the Adrian Dominican Sisters' Motherhouse, 1257 E. Siena Heights Drive, Adrian. Enter the Eastern-most driveway of the complex and follow the signs to Weber Center.
INAI Gallery is open daily from 8:00 a.m. to 6:00 p.m. and from 8:00 a.m. to 8:00 p.m. on Thursdays.
For information, call Weber Center at 517-266-4000.