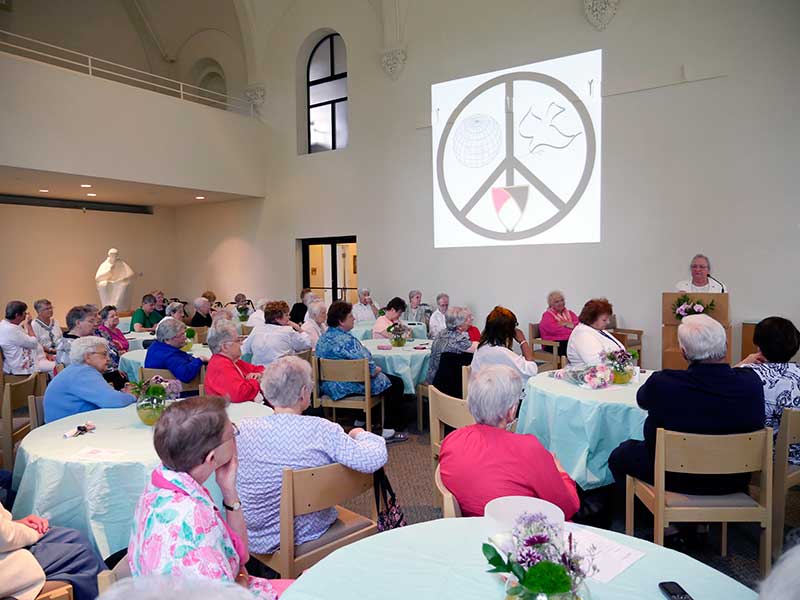 On Friday, June 22nd, the Dominican Sisters of Caldwell opened their Assembly by honoring Sister Patricia Hogan, OP, with the 2018 Dominican Sisters Peace Award. This award, established in 1995 by the congregation's Commission on Global Issues, is intended to honor an individual or group who has made a significant contribution to justice and peace.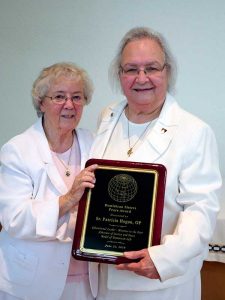 The Caldwell Dominicans are proud to recognize Sr. Patricia Hogan's work among the children, parents, teachers, staff and parishioners whose lives she has touched with her myriad gifts of leadership, intelligence, compassion, advocacy and dedication in serving these past years as a Dominican Preacher in Catholic school ministry.
For serving the Church in Catholic educational ministry for more than fifty years in St. Aedan's, Jersey City, St. Ann's, Newark, and Our Lady Help of Christians, East Orange;
For being an inspiration of faith and hope for many first-generation African and Haitian families who are a part of the parish and school;
For being an advocate for peace and justice as those in her community strive to achieve lives of goodness, peace and security;
For graciously carrying out the gospel message in serving others;
For the foundation of Peace and Justice Studies within the community of Our Lady Help of Christians that continues to inspire and give confidence, service and empowerment to the community;
For establishing Our Lady Help of Christians as a peaceable school – peace with God, self, one another and the Earth;
For being a catalyst for the students, families and community as they strive to work for change, maximize resources and coordinate activities that benefit the children, youth and adults;
For her life of service, love and compassion that has given generations of families pride in their accomplishments, hope for a future full of opportunity for success and a peaceful spirit that call each to act justly.
It is with profound gratitude and pleasure that the Caldwell Dominicans honor Sister Pat with the 2018 Dominican Sisters Peace Award.
The following persons have been past award recipients:  Sr. Maura Campbell, OP – 1965; Sr. Patricia Stringer, OP – 2001; Msgr. William Reilly -2002; Sr. Eleanor Uhl, OP and Sr. Barbara Nesbihal, SC – 2006; Lois Seeligsohn, OPA – 2008; Sr. deMontfort Kinchellagh, OP – 2008; Dominican Sisters Community, Our Lady of Sorrows Parish in Jersey City – 2010; Sr. Ann Dominic Vano, OP – 2012; Sr. Lena Picillo, OP – 2014; Dr. James Morgan – 2016.