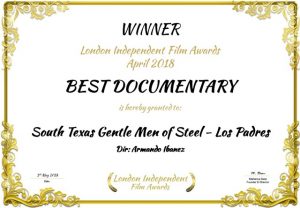 The London Independent Film Awards awarded Best Documentary for April 2018 to a feature documentary, South Texas Gentle Men of Steel—Los Padres, written, produced and directed by Southern Dominican friar, Armando P. Ibáñez, O.P.
"London Independent Film Awards is a monthly competition with annual screenings, recognizing and awarding the work of independent filmmakers worldwide," states a description posted on Filmfreeway.com. "A selection of best films will be shortlisted to compete in our Grand jury competition and screened at our annual festival held on Sat 30th March 2019 at The Roxy Bar & Screen, London."

In addition to the Best Documentary Award, the Jakarta International Humanitarian and Culture Awards awarded the film two Platinum Awards in the Documentary and Directing categories and a Gold Award in Editing.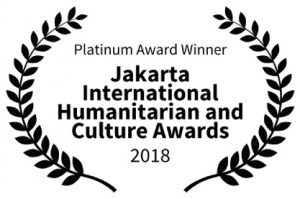 "These awards are a testament of an excellent crew and of the documentary's voice," said Ibáñez, who is the Director of Radio,Television-Film at Texas A&M University-Kingsville, where he also teaches digital filmmaking.
"Why is a Dominican involved in filmmaking?" he added. This is a fair question, he said, adding that he is simply answering the call of "our prophetic General Chapters, dating back to Quezon City, Mexico, in 1977."
Regarding media, the Chapter of Quezon stated:
The world of today, and tomorrow's world, hold out an immense challenge to the Church and the Order. If the Order is to serve the Word of God in an effective way, it is clear that involvement in this new universe must, without doubt, be one of the planks of Dominican apostolic daring. Simply put, it is imperative that the brothers and sisters of the Order be present, in a responsible way, in this key sector of our world, present and future.
"I am grateful to my province for allowing me to continue my work in filmmaking, and to my Sisters and Brothers who have been supportive, especially my community at Holy Rosary in Houston."
Pluma Pictures signed a licensing deal with Content Farm of ALLCAST Media to distribute the documentary via both streaming platforms – including Amazon Prime, Vudu, Amazon, and Apple iTunes – as well as conventional venues.
"It's truly an honor to help bring this film to audiences," said Michael Holstein, Chief Content Officer & President, ALLCAST Media, adding that the release date is scheduled for late September.
The documentary is about the end of the 82-year presence of Dominican friars in South Texas, primarily around Alice, San Diego and the surrounding area, with the departure of the last two friars, Fathers Epifanio "Epi" Rodriguez and Benito Retortillo, who left in 2013. Dominican friars, headquartered in San Diego, had a powerful and lasting impact on the history and development of central South Texas, especially when it came to the many Mexican-Americans whom they helped fight against injustice and harsh racism, which speak to the experiences of many in the Southwest.
The documentary, produced by Pluma Pictures, a nonprofit film production company, won a total of 17 awards:
Award of Exceptional Merit; Documentary-Feature Length; Docs Without Borders Award of Merit; Documentary-Feature Competition; Accolade Global Film Competition Silver Palm Award; Documentary; Mexico International Film Festival Gold Award; Documentary Feature, Directing and Animated Visuals; International Independent Film Awards Award of Excellence; History/Biographical; The IndieFest Film Awards Award of Merit Special Mention; Christian; The IndieFest Film Awards Best Documentary; iHolly Next Generation Gold Remi Award; WorldFest Houston Award of Excellence; History/Biographical, Documentary, and Religion/Ethics; Impact Docs Awards, 2016 Award of Merit Special Mention; Editing, Contemporary Issues/Awareness and Direction; Impact Docs Awards, 2016
The film's production crew is comprised of Todd Schmidt of Slidell, LA, producer, editor and special effects artist; Emmy Award Nominee, Joe O. Barrera of Los Angeles and native of San Diego, music composer; Neil de la Peña of Los Angeles, Director of Photography; and Alan Jouet of New Orleans, audio engineer.
The documentary is produced by Pluma Pictures, Inc., a nonprofit film production company. The board of directors includes: Dr. Thomas Hedberg; Dr. Erlinda Grey; and Ned Greene, all of whom are from Los Angeles; Christopher Renz, O.P., Berkeley; Bruce Schultz, O.P., Atlanta; Dr. James Moises, New Orleans; and Michael Paz, Destrehan, Louisiana.
Submitted by Armando P. Ibáñez, O.P.