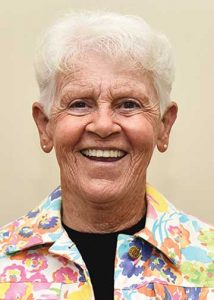 May 7, 2018, Washington, DC – Sister Patricia Erickson, OP, a Justice Promoter for the Florida Mission Chapter of the Adrian Dominican Sisters, was one of about 700 people to attend a four-day conference in Washington, D.C., in preparation for effective lobbying for just policies for people who have been displaced.
Sister Patricia was attending the 2018 Ecumenical Advocacy Days for Global Justice with Peace, an annual national conference that prepares Christians and others of good will to bring the attention of their legislators to a particular social justice issue. The focus for 2018 was "A World Uprooted: Responding to Migrants, Refugees, and Displaced People."

"I was surprised by how many young people were at the conference," Sister Patricia said. "I never expected so many people to be interested in advocacy for immigration. They were not only interested in the immigration issue but in climate change and everything else that influences why people leave their countries."
The objective of the conference was to give participants the information and input they needed for their visit to their state legislators on Monday, so that they could effectively advocate for a just immigration system, Sister Patricia explained. While she could not attend the formal legislative day on April 23, Sister Patricia attended several break-out sessions that offered information and insights that helped her in her advocacy work at home and as a Justice Promoter.
The conference offered plenary sessions, as well as break-out sessions that focused on the various regions in the world; U.S. domestic policies regarding immigration and migration; ecojustice; global economic justice; peace and global security; and skills training in advocacy.
During the opening celebration on the evening of April 20, Dr. Elizabeth Conde-Frazier, Vice President of Education and Dean of the Esperanza College at Eastern University, a Christian university near Philadelphia, noted that the current "missionary theology" operating today "prevents us from speaking the truth of oppression today," Sister Patricia recalled.
The first full day, April 21, emphasized U.S. policies toward immigration. In the plenary session, Dr. Elizabeth Ferris, of the Institute for the Study of International Migration at Georgetown University, spoke on xenophobia, fear of the other. She emphasized that refugees are not victims but survivors and heroes, Sister Patricia said.
Sister Patricia attended break-out sessions that focused on faithful solidarity with border communities and migrants; justice threats to unaccompanied minors coming into the United States; and the U.S. role in driving displacement and deporting immigrants back to Mexico and Central America. She came away with some suggested approaches to these issues: work with people and groups on the border when setting policies; help youth who are fleeing violence by strengthening families and building community support; and help migrants who are returning home to develop small businesses and to know their rights.
A highlight of April 21 was a Mass sponsored by the Columban Fathers and Brothers. The presider was Bishop Ricardo Ramirez, Bishop Emeritus of the Diocese of Las Cruces, New Mexico, and director in the 1970s of the Mexican-American Cultural Center in San Antonio, Texas.
In the plenary session on April 22, representatives of three nations spoke: South Sudan, hosting 2 million refugees and dealing with violence and lack of food and medical care; Tuvalu, a Polynesian island nation midway between Australia and Hawaii, dealing with little employment and the danger of rising seas; and the Philippines, dealing with low employment, corruption of political dynasties, danger from typhoons, and human rights violations.
"Monday was the day that groups went to Capitol Hill to advocate for change," Sister Patricia said. The groups, organized by state, were given two talking points:
Congress must redirect funding currently used for deportations, detention, and the militarization of borders. "Congress appropriates enough money to maintain 34,000 detention beds," Sister Patricia explained. Immigration and Customs Enforcement (ICE) "is now detaining an average of 41,000 per day." Workshop participants were advocating for more humane alternatives to detention, such as community-based release, she explained.
Congress should support refugee settlement in U.S. communities and help people remain in their native land by funding humanitarian, peace-building, and poverty-focused foreign assistance to address the root causes of migration. Sister Patricia noted that less than 1 percent of the federal budget is used for development and humanitarian relief. "Investing in poverty focused development assistance and agricultural aid will help build resilient communities and ecosystems" in countries that face extreme weather events, droughts, food shortage, and the need for migration, she said.
"From what people say, the message was as well received as it could be," Sister Patricia said. "At least, they were listened to." She herself wrote letters to her legislators, focusing on the talking points. People throughout the country who could not attend the conference were invited to call their senators and representative with the same message.
For action that you can take on behalf of immigrants and in other areas of justice and peace advocacy, visit the Adrian Dominican Sisters' Action Alert page.