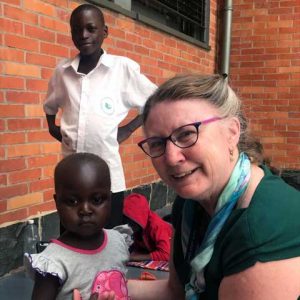 April 12, 2018, Kampala, Uganda – Cancer patients in Uganda face an uphill battle. Often, by the time they are diagnosed, they are already terminally ill. In addition, Uganda is tragically underserved in the area of health care: only one cancer center in the country and nine nurses per 10,000 people.
Kathleen Shannon Dorcy, an Adrian Dominican Associate and a 35-year oncology nurse, is part of a collaborative effort that hopes to change this situation in Uganda by offering training and support to the country's nurses.

As one of two nurses travelling to Uganda Kathleen helped lay the foundation for a collaborative effort between the Seattle Cancer Care Alliance (SCCA) and the Uganda Cancer Institute (UCI). Kathleen is the Director of Clinical/Nursing Research, Education and Practice for SCCA and staff scientist of the Fred Hutchinson Cancer Research Center.
The trip was the most recent step in the collaborative efforts of health care organizations between Seattle and Uganda. The Fred Hutchinson Cancer Research Center and the Uganda Cancer Institute (UCI) opened a research, training, and patient care facility in 2015 in Kampala, Uganda, and have engaged with Ugandan medical practice and education at UCI and Makarere University.
Because Uganda has only one cancer care center, patients may travel hundreds of miles to get there – often arriving with advance stage disease requiring chemotherapy, possibly radiation and palliative care, Kathleen said.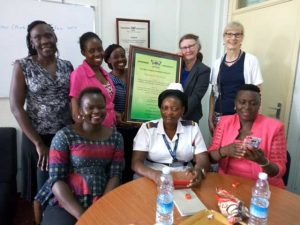 During the recent, week-long trip Kathleen and Arlyce Coumar, RN, dedicated time to understanding oncology care in Uganda. "While at the UCI we got to know the nurses and the clinical setting and we met patients and families as well as explored the scope of clinical care offered." Kathleen explained. While there, Kathleen and Arlyce taught three classes to more than 100 people, celebrated World Cancer Day at the Parliament Plaza in Kampala, and worked with the UCI nurse and medical leadership to identify next steps in the collaborative efforts to improve cancer outcomes.
Kathleen envisions a sustained relationship between SCCA and UCI nurses. She and another nurse-led delegation will be returning to Uganda twice in the next 12 months. In these visits the delegations will work with the National Oncology Nurse Society to set up a curriculum for the UCI nurses. "We want to augment clinical orientation and Oncology competency to create a dedicated Uganda Cancer Nurse Fellowship Program.
The project is based on the World Health Organization imperative urging highly-resourced countries to help under resourced countries to improve health outcomes, Kathleen noted. "Closely observing the UCI staff daily work in such a complex clinical setting, overcoming obstacles like limited water resources, no air-conditioning in temperatures of 90 to 100 degrees, scarce medical supplies, and very ill patients was totally awe inspiring," she said. 
Kathleen attributes prompting of the Holy Spirit – or St. Catherine – with the formal resolve to find ways to address the needs of the UCI nurses and patients. "Somebody had to make it happen," she said. "We had to take the first step and figure it out. It is an ongoing commitment of reflection, identification of the needs and finding ways to meet immediate needs and development of a strategic long path toward better screening and earlier diagnoses. For us it has been an incredibly exciting yet challenging and humbling journey."
To read more about the ongoing collaborative work to treat cancer in Uganda, click here.