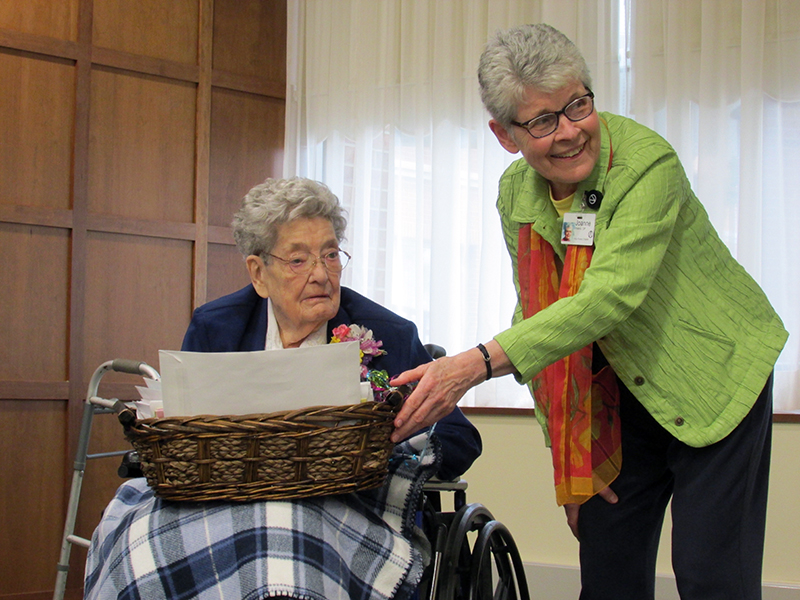 October 30, 2017, Adrian, Michigan – Adrian Dominican Sisters and Associates, family members and friends, and members of the greater Adrian community gathered October 25 for a special celebration: the 100th birthday of Sister Ann Seraphim Schenk, OP. The celebration included a Mass in St. Catherine Chapel, a festive dinner for Sister Ann Seraphim and her family, and an afternoon reception.

During the Mass, which formally opened the celebration, Sister Ann Seraphim sat with her nieces and nephews, who had come from as far away as Illinois, California, New Jersey, and Texas to share in the celebration.
Father James Hug, SJ, Motherhouse Chaplain, in reflecting on the Gospel in which Jesus asks the disciples to let the children come to him, noted Sister Ann Seraphim's example through her years as a teacher. Sister Ann Seraphim was a "wonderful example in our midst of God loving little children generation and generation after generation – blessing them, teaching them, praying with them, helping them to know God, laying your hands in blessing," he said. "It's a wonderful witness you've given to us of how Jesus loves little children. Thank you. Thank you."
The afternoon reception gave Sisters and government officials the opportunity to pay tribute to Sister Ann Seraphim. Sister Patricia Dulka, OP, Chapter Prioress of many of the Sisters in the Dominican Life Center, noted the many people who benefited from Sister Ann Seraphim's 100 years of life. "All the children that you touched, all the Sisters who lived with you and were especially taken by you, everybody that you touched, in some way they're carrying that spirit because of you," Sister Patricia said.
Sister Mary Margaret Pachucki, OP, Vicaress and General Councilor, extended congratulations on behalf of the entire General Council. "We just glory in the 100 years of life that you are serving and many years in this Congregation," Sister Mary Margaret said.
Sister Mary Margaret noted that a special papal blessing from Pope Francis was on its way to Sister Ann Seraphim "in celebration of who you are and all of the service that you have given to the children of the world." In addition, she extended the congratulations and blessings of Bishop Earl Boyea, of the Diocese of Lansing.
Sister Noella Marie McLeod, OP, sent an email noting Sister Ann Seraphim's impact on her life, from the time that Sister Noella started kindergarten at St. Gabriel in Detroit to her entrance into the Congregation in 1956, when Sister Ann Seraphim served as her companion, and through the years beyond. "I thank God for you, a constant in my life for so many years," she concluded.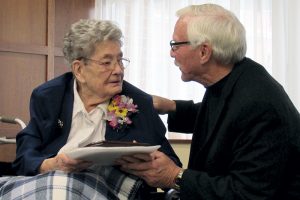 James Berryman, Mayor of Adrian, presented Sister Ann Seraphim with the Mayor's Community Service Award, based on a quotation by Dr. Martin Luther King Jr.: "Life's most persistently burning question is, what are you doing for others?" To Sister Ann Seraphim, he said, "Your life's dedication and work certainly exemplifies that quote. Thank you, Sister Ann Seraphim, for your years of service of God's children and for the life of a Dominican Sister."
Sister Ann Seraphim also received tributes and congratulations from U.S. Senator Debbie Stabenow (D-Michigan), State Representative Bronna Kahlle (R.-Dist. 57), State Senator Dale Zorn (R-Dist. 17), Michigan Lieutenant Governor Brian Calley, and Michigan Governor Rick Snyder. In addition, Sister Ann Seraphim received a basket of about 140 birthday cards from Sisters and Associates from throughout the country.
Born October 25, 1917, in Belleville, Illinois, and baptized Doris Rose Schenk, Sister Ann Seraphim was the daughter of Henry and Linda (Hoff) Schenk. She graduated in 1936 from Bishop Muldoon High School in Rockford, Illinois – where she was taught by Adrian Dominican Sisters – and entered the Congregation in June of that year.
Sister Ann Seraphim was predominantly an educator, teaching in elementary schools in Michigan, Illinois, and Arizona. She taught general subjects and music in kindergarten and at various grades at the elementary level. "I taught everything from Kindergarten, first and second grade to elementary school graduation," she recalled.
Her longest terms of service included ministering as elementary and music teacher at St. Gabriel, Detroit, 1939-1945; elementary and music teacher at St. Theresa, Detroit, 1951-1959; principal and teacher at St. Mary, Chelsea, Michigan, 1960-1966; and principal of St. Bridget, Love's Park, Illinois, 1975 to 1989.
After her retirement in 1991, Sister Ann Seraphim volunteered at St. Patrick's Clothes Closet in Rockford, Illinois, until she moved to the Dominican Life Center in Adrian in 2004.
Sister Ann Seraphim earned a bachelor's degree in science in 1947 and a master's degree in administration and school supervision in 1970, both from Siena Heights College (now University).
Among Sister Ann's favorite memories was her work with math students. "They won several local contests," she recalled. She also enjoyed teaching kindergarten. "I tried to be a part of them, to connect with them," she said.
In her years of teaching, Sister Ann Seraphim taught a range of students, from those who were brilliant to those who had more difficulty in their studies. She recalled especially the efforts she put into teaching students who were challenged by their class work. "I had to find an angle to reach them so they could flow in there and start working with the larger group," she explained. "Then they'd get fired up."
Through the years, Sister Ann Seraphim has been avid in crocheting, having completed enough crochet projects – hats, scarves, mittens, shawls, and afghans – "to fill this whole room." She has given her creations away as gifts and has sold her creations at the Motherhouse Christmas bazaar.
Asked about advice she would give to younger Sisters and to people who aspire to reach 100 years, Sister Ann Seraphim advised younger Sisters not to approach community life or ministry with the attitude that they are "it," but rather to see themselves as part of something much greater than themselves. To those who wished to reach her age, she said, "Just don't worry about how many days you've got – just go live them!"