December 5, 2016, Cincinnati, Ohio – Friends of the Adrian Dominican Congregation might recognize the names of two authors in the recently published book, Prayer in the Catholic Tradition: A Handbook of Practical Approaches. Sister Mary Catherine Nolan, OP, wrote the chapter on Marian prayer, while Sister Maribeth Howell, OP, authored the chapter on Praying with the Psalms.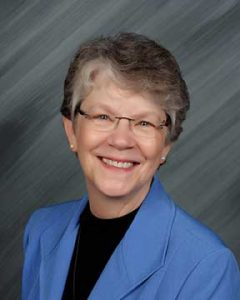 Sister Maribeth, Professor of Sacred Scripture at St. Mary Seminary and Graduate School of Theology in Wickliffe, Ohio, holds a PhD and a Doctorate in Sacred Theology from Katholieke Universiteit in Lueven, Belgium. She said Robert J. Wicks, the editor of Prayer in the Catholic Tradition, asked her to write a chapter in his book.
"I've known Bob for many years, and he and his wife are friends [of mine]," Sister Maribeth explained. Bob asked her to write about praying with the psalms.
In writing the chapter, Sister Maribeth said, she particularly hoped readers would "recognize that the psalms hold within them prayers for every imaginable feeling. I always find that the psalms are good places to go to find words for different expressions of prayer, be they hope, promise, joy, frustration, anger. All of those are captured in the psalms."
Sister Maribeth – one of the final editors and a translator for the psalms and Old Testament readings of Dominican Praise, a provisional book of prayer for Dominican women – noted that many people become familiar with psalms through praying the Liturgy of the Hours. The chapter in Prayer in the Catholic Tradition includes variations on this traditional prayer form, suggestions for varying a Vespers service for special occasions, and suggestions for praying the Liturgy of the Hours alone.
"The Liturgy of the Hours is the prayer of the Church, so it's not really private prayer," even when it's prayed by one person, Sister Maribeth explained. "It's a time of prayer when I'm invited to be conscious of the universal Church and the needs of all God's people."
Dr. Wickes also gave Sister Maribeth an overview of the book and asked for recommendations for other authors. "Automatically, when I saw reference to praying with Mary, I thought of Mary Catherine Nolan," a scholar specializing in Mariology.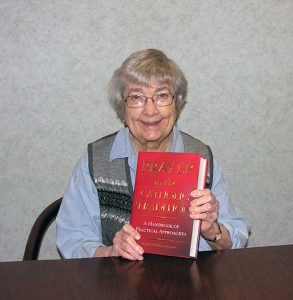 Sister Mary Catherine earned doctorate in sacred theology from Dayton University's International Marian Research Institute in 1994 and, in 2012, presented a paper on Mary and Islam at an international conference on Mariology in Rome.
Sister Mary Catherine explained that her greatest task in writing the chapter on Marian Prayer was choosing what to discuss in very few pages.
"When I first started to write this, I felt like I had to dive into the ocean to come up with a pebble because there is so much," she explained. "The topic of Marian prayer is vast."
Sister Mary Catherine took a historical approach to Marian devotion, starting with the earliest recorded prayer to Mary, the Sub Tuum Praesidium – "We Fly to you patronage, O holy Mother of God" – and including popular prayers such as the Regina Coeli and the hymn, Salve Maria, sung after Vespers. One of her favorite Marian prayers is the Magnificat, Mary's own hymn of praise during her visit to Elizabeth. Because of lack of space, she said, she omitted references to such broad topics as Marian apparitions.
Sister Mary Catherine said the key message she hopes to bring to readers can be found in the final paragraph of the chapter: "The lowly, the poor, the powerless, the politically oppressed, all who suffer loss or diminishment, can join their voice with Mary's voice in singing her Magnificat, praising God for their own blessings and finding in her prayer a future full of hope. She is the sister who walks beside us and intercedes for us as we move toward our final end, transforming union with God for all eternity."
Prayer in the Catholic Tradition: A Handbook of Practical Approaches