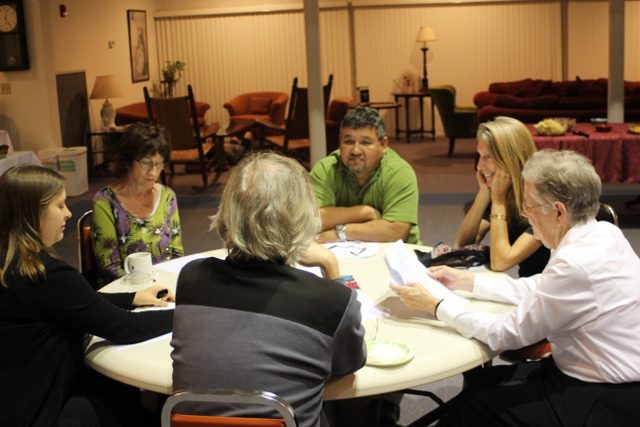 On Friday evening, December 2, 2016, the Dominican Sisters of Houston partnered with Campaign Nonviolence to host a prayer service commemorating the anniversary of the assassinations of Sisters Ita Ford, Dorothy Kazal, Maura Clarke and Maryknoll lay missionary Jean Donovan. The concept to partner with Campaign Nonviolence surfaced when the Justice, Peace and Care of Creation Commission discussed the Nonviolence and Just Peace Conference held in Rome April 11-13, 2016 which was co-sponsored by Pax Christi International and by the Pontifical Council for Justice and Peace, Pax Christi International, and other international bodies. Campaign Nonviolence also participated in the International Day of Peace prayer in September.

In her welcoming remarks, Sr. Ceil explained that the global initiative for Nonviolence and Just Peace reaffirms the centrality of active nonviolence in the life of Jesus, to the life of Catholic Social Teaching in the Church, and the long term vocation of healing and reconciling both people and the planet. The prayer service was not only one of looking back and remembering but also of moving forward to envision a world of nonviolence and peace.
The evening began with a prayer remembering the churchwomen and others who were murdered during the turbulent times in Central America as well as praying for the many victims of violence today. Participants were then led in a "Litany of Disarmament" where they prayed for the grace to disarm their hearts of the pillars of War, Poverty, Climate Crisis, and the Epidemic of Violence. Following the disarmament of each pillar, discussions were held at each table where participants were ask to envision what the pillars of Justice, Equity, One with Creation and Peace would look like.
In closing Sr. Ceil invited those present to Save the Date for March 11. "Nonviolence and Just Peace" is the title of the March 11 Pax Christi Texas Conference featuring Marie Dennis, who participated in the Rome Conference as a representative from Pax Christi International.