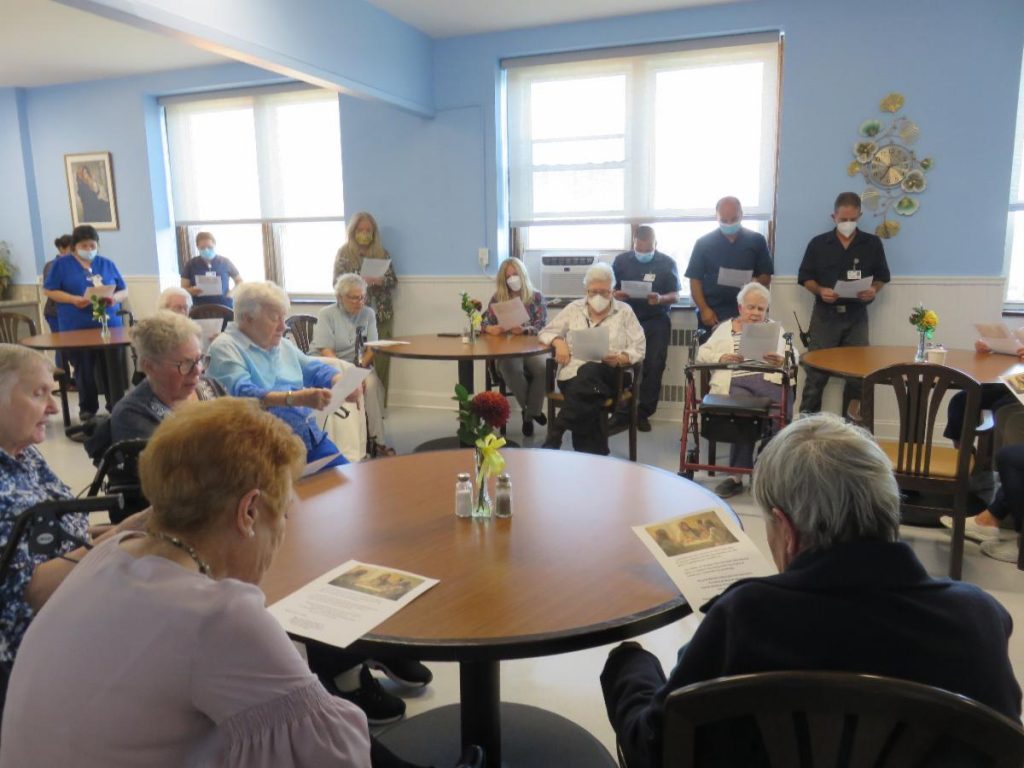 On October 5, 2023, there was a special blessing on the newly refurbished 3C Dining room in the Queen of the Rosary Motherhouse in Amityville, NY.
It was reimagined in honor of beloved Amityville Dominican Sister Mary Weber who was welcomed home to God last May, 2022.
Sister Mary Weber (Sister Mary Loreen), 90, had ministered as a beloved teacher and principal for almost 30 years, and then served in the healthcare field in leadership roles. She was a beloved friend and "wisdom figure" to many sisters.
The dining room has been updated with new tiled floor, a fresh coat of paint on the walls and new wainscoting and cabinets. Furniture for a seating area was donated and delivered by a thrift store run by Father Frank Pizzarelli's Hope House Ministries (including a table that had belonged to Billy Joel). Funds for the beautiful artwork were donated by sisters and friends, along with art given by Artist Mo Carey and S. Barbara Schwarz.
More than 50 people attended the blessing including sisters, aides, staff from housekeeping and maintenance and many who contributed to the project in so many ways.
The idea to redo the room came when members of the set the Irises (Sisters Lorraine McDonald, Joy Castiglione, Ann Horn and Pat Duffy – and several friends, Michele DelMonte and Sister Marie Rabuse) were sitting with S. Mary Weber as she was dying. "The nurse came in to care for Mary and we stepped out and went into the 3rd floor dining room," recalled Sister Pat Duffy. As they pulled out chairs, they noticed tears in the cushions. "We were saddened at the condition of the room. We committed that we would redo the room in Mary's memory…We loved her. She was such a wisdom figure for everyone."
The Motherhouse sisters were involved in all decision making from the color of the walls to the title for the floor. One sister remarked that she was in the Community 73 years and was never asked a paint color she would like. She was told her "this was her moment" and she with the majority of sisters picked blue.
"I think Sr. Mary Weber would like the room very much, said Sister Pat. "She would say well done girls…She really liked nice things and it was our hope to make it nice for the sisters Mary ate with."