Kigali, Rwanda: This first-person account by Dominican Sister of Peace Joanne Caniglia details her educational work in Rwanda as a Kent State University Professor of Mathematics.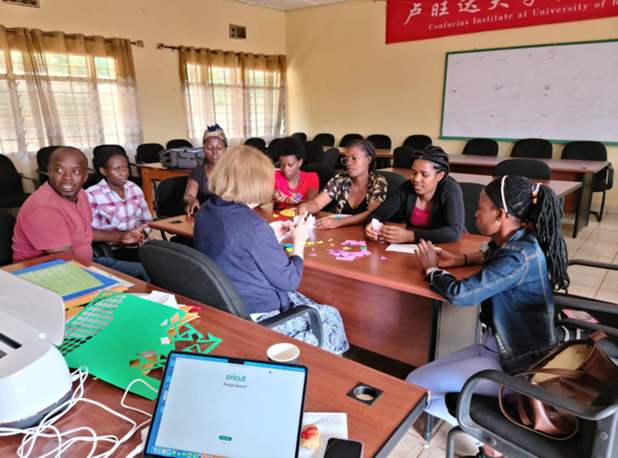 Beginning in kindergarten and continuing into college, mathematics is not just an academic subject: It's a key mechanism in the distribution of opportunity. Even as math expectations can serve as a foundation for academic success by supporting quantitative literacy, they can also operate as a filter that literally stops many students in their educational tracks. (The Mathematics of Opportunity, Pamela Berman, 2018). 

Pamela Berman
The quote by Pamela Berman describes the importance of creating opportunities for all students to understand mathematics. As a Dominican Sister of Peace and a mathematics educator, this is an essential mandate for me. The disparity in educational opportunities is most evident in third world countries, where schools are without supplies and teachers. Many teachers face classes with more than 50-70 children without an aide. The oversized classes result in little interaction between and among students and few materials to go around.
Helping Children to Visualize and Engage in Mathematics
As a faculty member in Kent State University's College of Education, Health, and Human Services, I became involved in a partnership with the University of Rwanda that encourages exchanges between faculty and students. When I visited Rwanda in 2022, I saw numerous public schools and teacher training centers where large class sizes and scarce learning materials were the norm. This observation helped to inspire a new project using the tools available at the new Innovation Lab at Kent State University. 
The DI HUB is a collaborative, "owned by all, shared by all" environment that brings together students and faculty from diverse disciplines. As a faculty fellow of the Innovation Lab, I found that by utilizing the tools of the Lab, like laser cutters and 3-D Printers, my colleagues and I could help children visualize mathematics and make it more meaningful.
When I visited Rwanda in 2022, I talked to many teachers and gained valuable input regarding tools that would be helpful in overcoming some of the teaching challenges that they face. When I returned this year, I brought the materials that my colleagues and I had created at the Innovation Lab.
But of course, having teaching materials is not the answer… knowing how to use those tools in meaningful and engaging ways is essential. The Rwandan teachers were very receptive but using physical learning tools in a class of 50-70 students offers a separate set of challenges. Imagine trying to manage of class of 65 fourth graders using connecting beads! We needed to engage creatively to get the best use out of these tools when demonstrating to the whole class or when using them in small groups.
Incorporating Peace in Education
Rwanda is a country that is safe, welcoming, and has a unique mandate…to include peace education within each subject and grade in the curriculum. This mandate is the essence of many efforts to discuss how peace can emerge in a country that was ravaged by genocide less than 30 years ago.
In response to this mandate, I was privileged to speak at the Peace Education in an Era of Chaos Conference sponsored by Kent State University, the University of Rwanda, and the Genocide Memorial of Remembrance in Kilgali (the capital of Rwanda). My Rwandan collaborator, Dr. Jean Francois Marinaho and I presented methods and strategies to encourage peace within the curriculum of pre-primary to secondary mathematics.
As my colleagues and I enter our next phase of collaboration in the creation and distribution of materials to teach not just mathematical concepts, but also how to teach peace, we must all be mindful of our mutual goals – to empower each other and our students to learn, and to give everyone the opportunity to learn.
"Rwanda's journey towards healing and reconciliation has not been easy. But the country serves as a testament to the resilience of the human spirit and the power of forgiveness. We are reminded that we need to find each other and build a world where love and compassion triumph over hate." Jean de Dieu Kayiranga, Program Manager at UNDP Rwanda, 29 years after the Genocide.
There has been no large-scale violence inside Rwanda since the 1994 genocide. This generation of peace has allowed Rwanda unprecedented progress, with a dramatic increase in national unity, a drop in poverty of more than 19% and a marked increase in the rights of women. I am truly blessed to be one of the individuals to help shape the new generation of Rwandan peace, where opportunity is distributed as surely and as fairly as 2+2 equals 4.