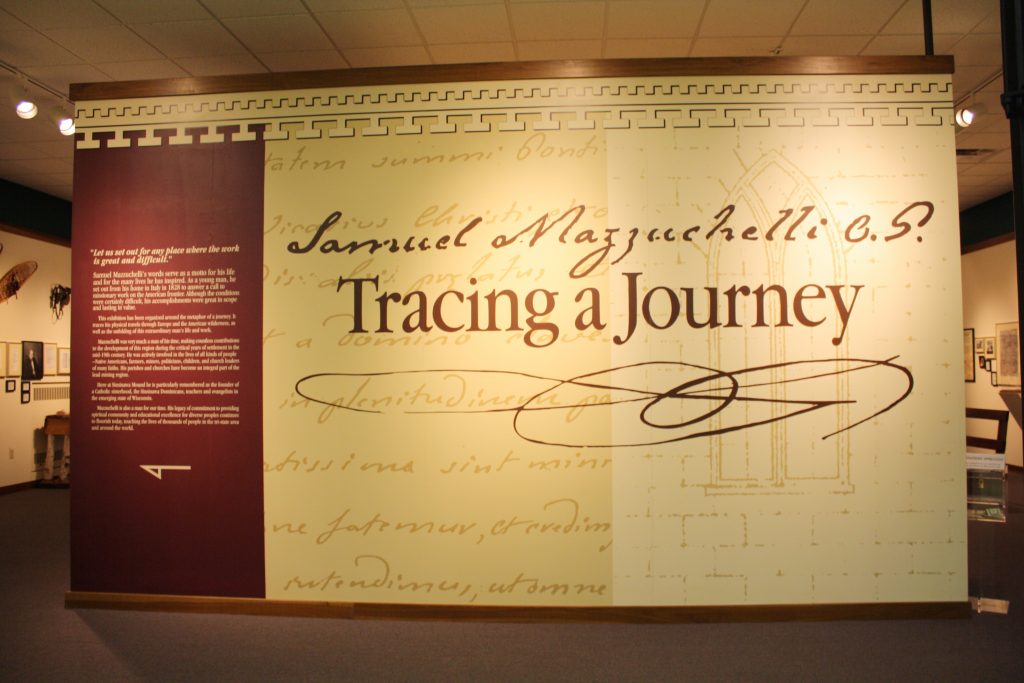 The Dominican Sisters of Sinsinawa are working with McCullough Creative to update and relocate the Father Samuel Mazzuchelli, OP: Tracing a Journey exhibit and the Telling Our Story heritage exhibit at Sinsinawa Mound.
Both exhibits will remain open to the public and tour groups Monday through Friday from 9 a.m. to 3:30 p.m. at Sinsinawa Mound's Heritage Center through July and August. The exhibits will be unavailable on weekends unless prior arrangements have been made by appointment. The final day to view the exhibits in their current environment will be Friday, Sept. 1, 2023. As the Congregation updates and transitions the exhibits to the Stone building at Sinsinawa from Sept. 2, 2023, to the fall of 2024, they will be unavailable to the public.
"We are excited to move the Mazzuchelli exhibit to the Stone building, which is the first building constructed by Father Samuel Mazzuchelli at Sinsinawa Mound," said Sinsinawa Promoter of Arts and Cultural Heritage Sister Priscilla Wood, OP. "We look forward to holding a grand reopening of both exhibits as one legacy exhibit in the fall of 2024."
The Sinsinawa Book & Gift Gallery will remain open Tuesday through Friday from 11 a.m. to 4 p.m. and will continue to sell products from Sinsinawa Bakery. Sinsinawa Farmers' Markets at the Sinsinawa Mound Collaborative Farm will continue to be held once a month on the following Wednesdays: July 26, Aug. 23, and Sept. 27.
Donations for updating and relocating the exhibits can be made to the Sinsinawa Dominicans online at www.sinsinawa.org/donate. Learn more about the work of the Dominican Sisters of Sinsinawa by visiting www.sinsinawa.org.The sisters are part of a worldwide Dominican family, the Order of Preachers. For more than 800 years, Dominicans have continued to preach the Gospel in word and deed. Today, thousands of sisters, nuns, priests, brothers, associates, and laity minister in more than 100 countries around the world.