Sr. Nancy Garson, OP, Receives Sr. Nancy Garson, OP, Receives Ohio Historical Records Advisory Board's Citizen Archivist Award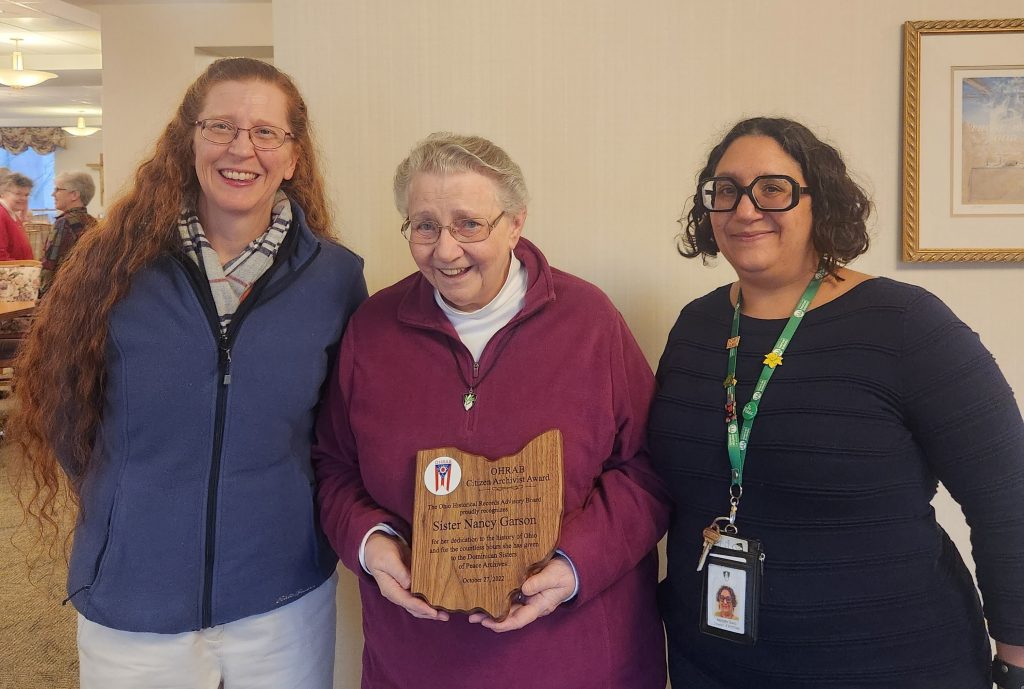 The late Flemish theologian Father Edward Shchillebeeckx was quoted as saying "Stories of the Dominican Order are what keep us together as Dominicans, Without a record, we would not find our place in the present."
The Dominican Sisters of Peace faced this challenge of "finding our place in the present" when they were formed in 2009. The product of a union of seven congregations of Dominican sisters, the new congregation of Peace had seven histories, seven sets of archives, and thousands of stories that spanned the world. In 2012, the Dominican Sisters of St. Catherine di Ricci became part of Peace, adding more traditions and still more stories.
Recently, Sr. Nancy Garson, OP, was recognized for her dedication and devotion to the creation of a unified archives for this congregation when she was awarded the Ohio Historical Records Advisory Board's Citizen Archivist Award.
Sister Nancy had held a variety of positions in her founding congregation, Dominican Sisters of St. Catherine of di Ricci, and as a part of the Dominican Sisters of Peace – but she had never been an archivist. She stepped into the role of volunteer archivist in 2016.
Undaunted by the job before her, she contracted with an archival expert to help her set goals and standards, and soon created an archival policy manual, forms, and general archival information. She oversaw the moves of three collections of Congregational archives from locations in Michigan and Louisiana and worked with the Congregation's leadership to expand the archival storage area Congregation's Columbus, OH, motherhouse to accommodate more records as other Motherhouses closed. Sr. Nancy's efforts helped to create the space and the methodology to properly preserve the documents, photographs, and ephemera of 200 years of service to the Catholic church and her people.
In her presentation of the Citizen Archivist Award, OHRAB Chair Tina Ratliff recognized Sr. Nancy's ongoing efforts to identify, collate and organize the history of the founding congregations as well as set into place a system for preserving the history of the Dominican Sisters of Peace.
Sr. Nancy Garson joined the Congregation in 1983, made her first profession as a Dominican Sister in 1985 and made final profession in 1989. She retired from her active ministry as an archivist in 2022 but continues to consult with the Congregation's professional archives staff to continue the project of recording and maintaining the history of the Dominican Sisters of Peace.