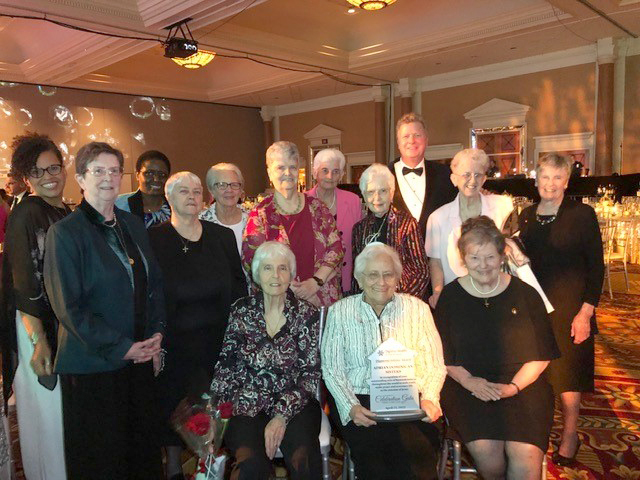 Some 75 years ago, seven Adrian Dominican Sisters traveled to Henderson, Nevada, to start a new mission: a hospital that has since become one of the three main campuses of what is now St. Rose Dominican Hospitals. Last month, thanks to the generosity of St. Rose Dominican Hospitals, 14 Adrian Dominican Sisters were among 550 people who gathered to celebrate its 75th anniversary and its impact on the Henderson and Las Vegas communities. 
"It was a wonderful event," said Sister Kathleen McGrail, OP, who currently ministers at St. Rose Dominican in community outreach, offering wellness programs to people in the local community. She noted that, as best as she can determine, some 84 Adrian Dominican Sisters served there over the years – some for a long time and others for a few months as volunteers, either during summer vacation or sabbatical.
The Gala was a key event, but the celebration is ongoing, Sister Kathleen said. The celebration will continue with a Mass celebrated by Bishop George Leo Thomas of the Diocese of Las Vegas on June 26, the anniversary of the day in 1947 that the Adrian Dominican Sisters received the papers from the government, selling the former Basic Magnesium Hospital to the Congregation.
The Gala – an annual event – is also a fundraiser for the hospitals. This year's Gala raised more than $1 million, which will be used for the fifth-floor build-out at the Catherine of Siena Campus, she said. Originally built as a shell, the fifth floor will now include 36 new rooms, she said.
"It was a wonderful event to recognize the Adrian Dominicans and their service over the 75 years," Sister Mary Margaret Pachucki, OP, said. "I think there's a great respect, a great sense of thanksgiving to our Sisters first of all for coming to Henderson and starting the hospital. The stories they tell of the founding Sisters are wonderful."
Among the stories, Sister Mary Margaret said, was of Sister Marie Angelita Wasco, one of the seven founding Sisters of St. Rose Dominican, who was famous for her bread, which she originally baked for a patient who couldn't eat anything else. "One of the local bakeries used her recipe and everyone there [at the Gala] got a loaf of bread with her name and the recipe," Sister Mary Margaret recalled. "I thought that was pretty special."
As a member of the General Council and Congregation Representative to CommonSpirit Health – the healthcare system to which St. Rose Dominican belongs – Sister Mary Margaret accepted the Diamond Jubilee Award on behalf of the Congregation. The award was presented by Lloyd H. Dean, CEO of CommonSpirit Health, who also held leadership positions in the other systems in which the Congregation's hospitals belonged: Dignity Health and Catholic Healthcare West.
In her talk on receiving the award, Sister Mary Margaret said, she "recognized our Sisters, that they have carried our mission and vision forward over the years, and I gave acknowledgement to the many co-workers who embraced the healing mission of Jesus. We didn't carry forth our mission alone. We did so with myriads of co-workers and the donors who make it possible to do great things at the hospital – to do the topnotch healthcare and service to the poor."
Sister Kathleen learned the dedication of lay co-workers from her own experience in her previous ministry as Vice President of Mission. "I'm impressed by the depth of our employees," she said. "They're faith-based, and that's why the come to St. Rose and why they work with us." Many, she said, had personal experiences at St. Rose before working there, such as having a baby at one of the hospitals or watching a loved one die there. "The way they were treated might have inspired them to come to St. Rose."
But however the employees came to work at St. Rose Dominican Hospitals, Sister Mary Margaret is confident that they will retain the legacy of the Adrian Dominican Sisters. "Our influence will always be there," she said. "There is a great sense that the Adrian Dominican Sisters' Mission and Vision will not go away – that the institution is marked forever by the Adrian Dominicans."
Watch a video on the history and legacy of St. Rose Dominican Hospitals and learn more at the hospital's special anniversary website: https://www.dignityhealth.org/las-vegas/about-us/75-year-anniversary