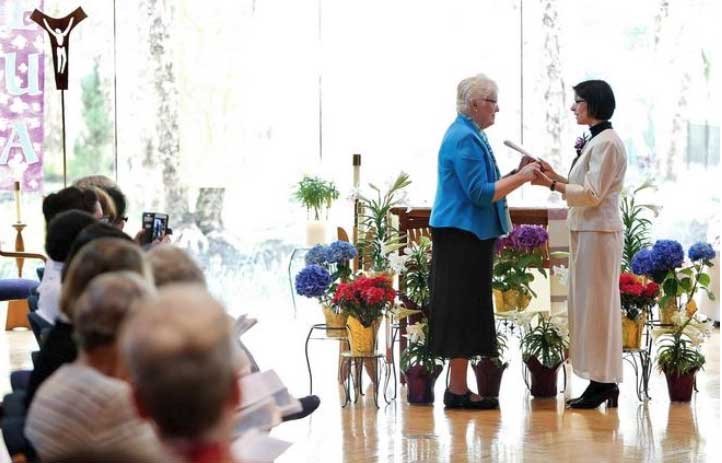 Columbus, OH – The second Sunday of Easter was the perfect day for the Perpetual Profession of Sr. Beáta Tiboldi, OP, 40, as a Dominican Sister of Peace. Her profession was made in a celebratory Mass in the chapel at the Congregation's Motherhouse in Columbus, OH.

Sister Beáta, or Bea, was the first woman to enter candidacy after the merger that created the Dominican Sisters of Peace in 2009. Bea was first called to religious life at the age of 15, growing up in Hungary. That persistent little voice continued after she moved to the United States in her 20's, serving first as an au pair and later as a teacher in Dayton, OH. With the help of a spiritual director, Bea was able to discern her call and, after much study and reflection, enter as a candidate into the newly-formed Dominican Sisters of Peace.
"One of the things that drew me to the Dominican Sisters of Peace," Sr. Bea said, "was their preferential option for the young. They didn't just talk about it. It was very real. Even today, this effort to reach out to young women discerning a vocation to religious life is very intentional. It comes with effort, attentiveness, and openness."
Sisters Pat Dual, OP, and Anne Keenan, OP, witnessed Sr. Bea's vows, which were received by Sister Pat Twohill. The Eucharist was presided over by Father Michael Trainor, OP, priest in residence at the Columbus Motherhouse, and music was provided by Sisters Amy McFrederick of Akron, OH, June Fitzgerald and Ana Gonzalez of New Haven, CT, and Pat Connick, New York, NY.
During the ceremony, Sr. Bea professed the vows of obedience, celibacy, and poverty to God, accepting a ring as a sign of God's faithful love, and a candle to represent the light of Christ within her and all people.
Sr. Bea received degrees in elementary education, catechesis, and computer programming in Budapest, Hungary. She also earned a Master's Degree in Early Childhood Education and Intervention from the University of Dayton. She will complete her Master's Degree in Pastoral Studies from the Fordham University in 2019.
Sr. Bea has ministered as an educator, catechist and a pastoral associate. Currently, Sr. Bea is a member of the Congregation's Vocation team and works with other young women to help them discern their call to religious life.
A native of Budapest, Hungary, Sr. Bea is the daughter of László Tiboldi and the late Éva Kovács. She has two brothers, László and Gábor Tiboldi, both of Hungary.