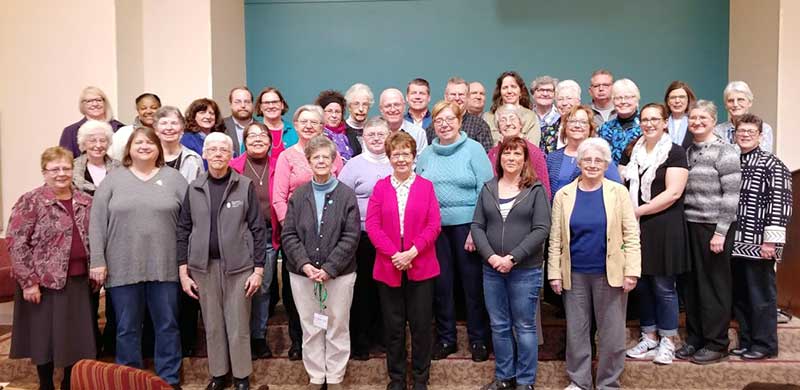 Columbus, OH – The tables in the big room were full. The attendees – a mix of genders, ages and cultures, sipped coffee and talked about schedules and fundraising. It could have been one of a hundred commercial training sessions, but this gathering was unique – it was the first meeting of the adult education, ecology, retreats and outreach ministries of the Dominican Sisters of Peace. In all, 14 ministries from five states were represented at the March 19, 2019, meeting in Columbus, OH.

"This was the first gathering of leaders from these various ministries. It was an amazing opportunity for sisters, associates, and lay partners to foster collaboration among our founded ministries," said Mark Butler, Education Coordinator for the Dominican Sisters of Peace Founded Ministries Board. "It was exciting to see how the Dominican charism is lived and celebrated in so many diverse ways."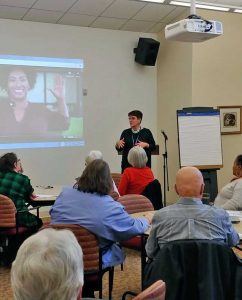 Educational presentations by Lisa Courtice, President and CEO of the United Way of Central Ohio, and Matt Habash, President and CEO of the Mid-Ohio Food Bank, were featured. The attendees also spent time planning and idea-sharing.
For Ann Axman, Co-Director of the Heartland Center for Spirituality, a retreat ministry in Great Bend, KS, this was the first time that she had met many of her ministry peers face to face. "Many of us did not know each other, but we quickly felt connected by our shared mission of building peace I many different ways," Axman said. "It was great to see the support that we received from Leadership and the Congregational staff as well."
Gail Race of the Siena Learning Center in New Britain, CT, was surprised by the diversity of the ministries represented. "The Founded Ministries team – including those of us working in the ministries – is just an incredible wealth of knowledge," she said.
Danny Ray Spaulding is the manager of St. Catharine Farm, a beef farm utilizing sustainable agriculture practices near Bardstown, KY. "We've been working hard to become a more visible part of our community," Spaulding said. "We've been a model teaching farm for years, and now we're becoming a community center as well. Meeting with our other ecology centers and even our retreat houses helped me pick up new ideas for events and strategies that will help make us more successful."