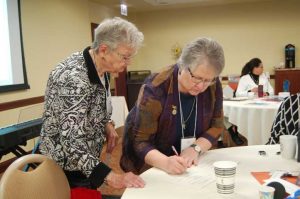 November 7, 2018, Chicago – Sherrie Ashley, a retired special education teacher and current teacher's aide living in Manteno, Illinois, became the newest Adrian Dominican Associate during the annual Fall Chapter Assembly of the Adrian Dominican Sisters' Dominican Midwest Mission Chapter, based in Chicago. The assembly was held October 27 at the Mercy Center.
The ritual included a brief introduction by Sister Norine Burns, OP, Sherrie's mentor; Sherrie's formal acceptance of the call to be known as an Adrian Dominican Associate; the signing of the formal documents of commitment; and Sherrie's reception of the Adrian Dominican Associates logo.

"I am inspired but also blessed to have learned and to be learning about living simply and praying deeply; studying and preaching; and being a voice of justice, especially for those who have no voice," Sherrie said. She added that her formation as an Adrian Dominican Associate "has affected me in all areas of my life, especially in my chosen ministries and in my paying job for men with developmental disabilities."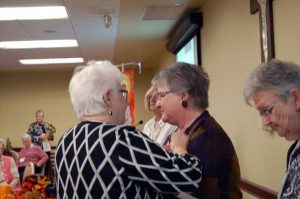 In her application, Sherrie stated that she hoped, as an Adrian Dominican Associate, to receive "partnership in a community of faithful believers in Jesus and in his mission for each of us, support and guidance in deepening my own walk with Jesus."
While familiar with the Racine Dominican Sisters, Sherrie first became aware of the Adrian Dominican Sisters when one conducted a mission appeal at her parish. She felt the call to live simply and to be compassionate to "those who are disabled, suffering, poor, or dying," she said.
Sherrie is active at her parish, St. Joseph Catholic Church in Manteno, as a catechist, lector, and Eucharistic minister and has been training to be a hospice volunteer. She is also in discernment about becoming a chaplain. A "life-long learner, always studying and reading," Sherrie holds two master's degrees: in curriculum/special education and in educational leadership.
Sherrie and her husband have two adult children and two grandchildren. They also devote time and energy to a rescue for great danes, and care for the massive dogs when their owners can no longer care for them.
Associates are women and men, at least 18 years of age, who make a non-vowed commitment to share in the Mission and Vision of the Adrian Dominican Sisters. While maintaining their independent lifestyle, they participate in ministries and activities of the Adrian Dominican Sisters.