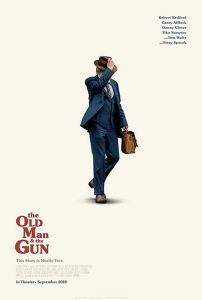 Movie Review by Fr. Tom Condon, O.P.
Robert Redford has said that The Old Man and the Gun would be his final movie. At 80, Redford still has a great face, and a quick smile. Despite the wrinkles, he still has star quality. This would be a fitting final movie for his legendary film career. But it has so much charm, I hope he changes his mind.
Redford plays Forrest Tucker, a 74 year old bank robber in a story that we're told is "mostly true." Although he carries a gun, he never shoots it. He robs banks for the fun and the thrill of it, and never intends to hurt anyone. He smiles during his robberies and is described by witnesses as being "nice" and "polite."

Forrest has been on the run from the police most of his life. He gets caught, then slips away. In The Old Man and the Gun the detective on his trail is John Hunt (Casey Affleck), a man young old enough to be Forrest's son. At times, the movie has the winsome flavor of Catch Me If You Can, in which Hunt and Tucker play a cat-and-mouse game. Late in the film, there's a great scene in which the two actually meet each other in a rest room. Sure enough, Tucker manages to walk away.
While escaping from a robbery, Tucker comes across Jewel (Sissy Spacek), a woman on the side of a road with car trouble. Jewel, a widow who raises horses, and Tucker become fond of each other and often meet for pie at a nearby diner. Tucker tells Jewel what he does for a living. Jewel laughs, thinking that Tucker is kidding her. How could such a nice man be a bank robber?
There's nothing very profound about this movie. But it's so comfortable to be able to spend 95 minutes with such legendary actors who seem to be enjoying themselves as well. Once again playing a con artist and bank robber, I was reminded of Redford's memorable performances in Butch Cassidy and the Sundance Kid and The Sting. Spacek still has the same smile and red hair of young Loretta Lynn in Coal Miner's Daughter. In some movies, directors cast unknown actors to play their characters, to add a sense of realism. The Old Man and the Gun benefits enormously from the star power of its lead actors. Who would want to see this movie with unknown actors?
When I saw The Old Man and the Gun, I don't think there was anyone under 50 in the theater. That's OK. Young people may be a little bored by a gem of a movie like this. Just a simple story about an older bank robber and his lady friend, without big budgets and special effects. If you like sitting back and watching an enjoyable yarn told by pros, you'll like The Old Man and the Gun.