COLUMBUS, OH, August 16 – On Thursday, August 16, Ohio Governor John Kasich met with religious sisters from all over the state for lunch and discussion at the Governor's Residence in Columbus. Sisters Pat Twohill, Nadine Buchanan, and Barbara Kane represented the Dominican Sisters of Peace at this meeting, the second such conducted by the Kasich administration during his eight years as Governor. Kasich held the first of these luncheons in 2016 to celebrate the canonization of St. Teresa of Calcutta.
Governor Kasich opened this year's conversation with his personal concern that people are not hearing about compassion, mercy, and justice in their churches, and are not bringing Jesus' message of inclusion out to the world.

The discussion led to a number of comments and compliments about the Governor's policies from the Sisters in attendance, especially regarding his dedication to Medicaid expansion and his willingness to consider and grant clemency for those on death row. Although he personally believes in the death penalty, Kasich said, it is a very serious decision to make.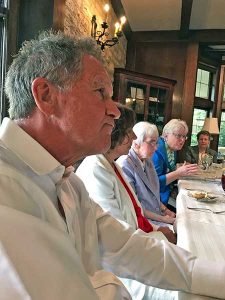 In response to a discussion about the decrease in those entering religious life, Sr. Pat Twohill commented that the Dominican Sisters of Peace and other orders are getting vocations. She added that it is a call that is not for everyone. Sr. Barbara Kane explained that the large number of vocations in the 1940's and 50's was an anomaly and that sisters are still attracted to religious life. When asked what kept Sisters doing their work, all agreed that the call and the support of the community were vital.
During the wide-ranging discussion, the Sisters at the meeting expressed their concern regarding a variety of societal issues facing our towns and cities, including health care for the poor, the opioid epidemic, fetal alcohol syndrome, and care for creation. During this discussion, Governor Kasich told the Sisters that he believes that local folks must come together to make a difference. "Strength in a group brings forth action," he said. He recognizes that the Sisters are often involved in coalitions that can initiate change in their local communities, and he strongly believes the individuals of faith must "spark people into action."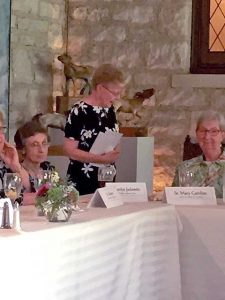 A perfect example of the Governor's belief in the power of Sisters to be a catalyst for change happened during the luncheon. Seated next to Kasich, Sr. Nadine Buchanan had the opportunity to tell him about her own work with trafficked women. She mentioned a recent drug-related incident that took place in her presence, and Kasich responded immediately. The Governor introduced Sister Nadine to Director of the Ohio Department of Public Safety John Born, who assigned resources to the problem right away.
Governor Kasich also shared his concern for children being separated at the border and being berated for coming to the U.S. from war-torn countries. "You just need to feel what it's like to be them," he said.
As part of the day's discussion, the Governor's staff described some of the programs that they are working on that are expected to improve the lives of Ohioans.
When asked if he was going to run for president in 2020, the Governor said that anything could happen, but most important, he would like to continue to have a voice in caring for people and promoting what is right.
Our Congregation and other consecrated religious in Ohio are grateful for this opportunity to share our concerns with Governor Kasich and his staff.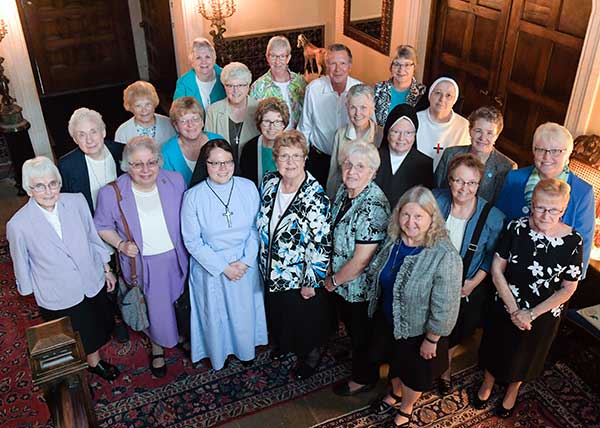 Representatives from Ohio Congregations of religious Sisters meet with Governor John Kasich.

FRONT ROW FROM LEFT

: Sr. Mary Jon Wagner, Sisters of St. Francis of Sylvania; Sr. Judith Ann Karam, Sisters of Charity of St. Augustine; Sr. Maria Lin Pacold, Religious Sisters of Mercy; Sr. Sharon Gray, Sisters of Charity Nazareth; Sr. Sharen Baldy, Sisters of Charity Nazareth; Sr. Leanne Jablonski, Congregation of the Daughters of Mary Immaculate;

SECOND ROW FROM LEFT

: Sister Barbara Hahl, Sisters of the Holy Cross; Sister Regina Snyder, Sisters of St. Francis of Penance and Christian Charity; Sr. Jean Ann Smith, Sisters of the Holy Cross; Sr. Eileen Fitzsimmons, Carmelite Sisters for the Aged and Infirm; Sr. Suzette Fisher, Sisters of Notre Dame, Toledo; Sister Nadine Buchanan, Dominican Sisters of Peace;

THIRD ROW FROM LEFT

: Sister Patty Kremer, Sisters of the Precious Blood; Sr. Mary Elizabeth Gatliff, Sisters of Notre Dame Toledo Province; Sister Marilyn Trowbridge, Franciscan Sisters of the Poor; Sr. Rochelle Guertal, Sisters of the Most Holy Trinity; Sr. Barbara Kane, Dominican Sisters of Peace, Sr. Pat Twohill, Dominican Sisters of Peace;

BACK ROW FROM LEFT

: Sr. Christine Pratt, Ursulines of Brown County; Sr. Mary Caroline Marchal, Sisters of Charity of Cincinnati; Governor John Kasich; Sr. Susan Ruedy, Sisters of Mercy.