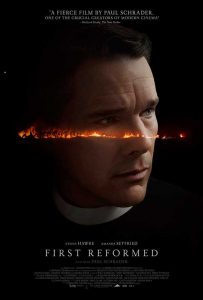 Movie Review by Fr. Tom Condon, O.P.
First Reformed is the story of Reverend Ernst Toller (Ethan Hawke) who pastors at a small church in upstate New York. First Reformed Church dates from the time of the Revolutionary War and is about to celebrate its 250th Anniversary. For the time being, its ministry is supported by a small gift shop, the occasional tourist, and mainly by a large, neighboring mega-church called Abundant Life, pastored by Rev. Joel Jeffers (Cedric the Entertainer).
One Sunday morning after conducting his service for a small congregation, Toller is approached by a young congregant named Mary (Amanda Seyfried). Mary confides in Toller that she is pregnant. She asks Toller if he would talk to her husband Michael, a radical environmentalist who seems depressed and is not excited about her pregnancy. Reluctantly, Toller agrees. Toller finds out that Michael has been arrested several times for protesting at environmental sites. Michael asks Toller if God will forgive people for what they have done to his creation; Toller says he doesn't know. Toller and Michael agree to meet again and talk further.

Toller arrives for his second meeting with Michael, only to find, to his horror, that Michael has committed suicide. Toller comforts the grieving Mary. The suicide also triggers Toller's grief and depression over the death of his son in Iraq. After his son's death, Toller and his wife divorced.
Toller's depression turns into a faith crisis when he learns from Jeffers that First Reformed's Anniversary Celebration will be sponsored by an industrialist who has no regard for the environment. When Toller expresses his sympathy for Mike's environmentalist stance, he is told that he will have little to do with the Anniversary liturgy at his own church. Toller goes further and further into his own darkness. Adding to Toller's predicament are the symptoms of cancer he has been experiencing.
First Reformed is written and directed by Paul Schrader, best known for writing classics like Taxi Driver and Raging Bull. Actually, Toller and Taxi Driver's Travis Bickle have more in common than you might expect. Both are loners who narrate much of the action and are driven to consider desperate measures to protest the morality of the times.
I was attracted to First Reformed because it's so rare to see a movie that explores religious themes in a serious way. The movie is interesting to a point, but it's very heavy going. A little humor would have helped!
In its final 20 minutes, when First Reformed moves toward its conclusion, it is disturbing and confusing.  I'm not sure what point Schrader was trying to make in the final scene. Perhaps he holds out for redemption, but I left feeling confused and disappointed.