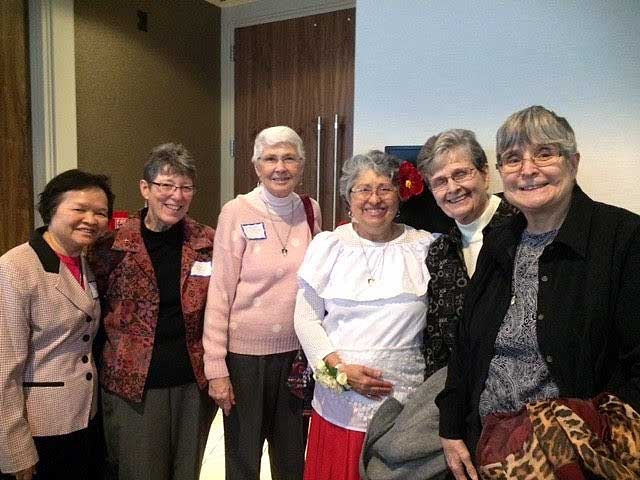 Cleveland, OH – The Cleveland International Hall of Fame inducted Dominican Sister of Peace Alicia Alvarado, OP, at a dinner ceremony on April 17.
Sister Alicia Alvarado was born in Villalba, Puerto Rico, and immigrated to Cleveland's West Side with her brother and sister when she was just 6 years old.
Sister Alicia entered the Sisters of St. Dominic of Akron, now the Dominican Sisters of Peace, in 1979. She has ministered with Hispanic communities most of her religious life, serving as Hispanic Program Coordinator on the Commission on Catholic Community Action for the Cleveland Diocese, Associate Director of Hispanic Ministry in the Diocese of Toledo, OH, and the Director of the Catholic Hispanic Center and the Los Caminantes Project in St. Louis, MO.

Sister Alicia returned to Cleveland to serve as Director of the Hispanic Office for the Cleveland Diocese in 1998. She served as on the Leadership Team of her Congregation and as the Executive Assistant to Councilman Joe Santiago, Ward 14.
Sister Alicia has received numerous awards for her work in social justice and her ministry among the Hispanic population. Among them are the Individual Award for Justice and Peace from the Cleveland Commission on Catholic Community Action in 2003, the Community Relations Award from the Hispanic Business Association (Hispanic Chamber of Commerce for Ohio) in 2003, 2004's Madrina Award (Godmother of the Community), and the Lifetime Community Service Award from the Cleveland Hispanic Roundtable in 2017.
She has been a member of numerous professional societies. She was the first Hispanic woman on the Board of Trustees of Cuyahoga Community College, served as Ohio Representative and in other roles for the Midwest Catholic Association of Hispanic Ministry, and was a member of the National Farm Workers Ministry Board.
Presently, Sister Alicia resides at Our Lady of the Elms Motherhouse in Akron and remains quite active with various social justice organizations.
Sister Alicia was inducted by former White House Fellow Jose Feliciano.