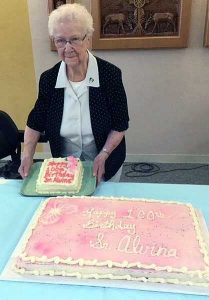 Great Bend, KS – The last hundred years have seen many, many changes in our Catholic Church. Nine new Popes, Vatican II, production of a new Catechism – even a Pope that uses Twitter! Sister Alvina Miller, OP, of Great Bend, KS, has seen all of these changes and more in her 100 years of life and 83 years of consecrated life.

Sr. Alvina was professed in 1935, and received both a Bachelor of Arts in Elementary Education from Marymount College in Salina, KS, and a Masters in Elementary Education from the University of Notre Dame in Indiana. She served as a teacher and school administrator in Kansas and Colorado for more than 30 years, then served as a librarian at both convents and medical facilities until 1991. She still serves as a part-time librarian at the Great Bend Motherhouse in Kansas.
According to Elaine Osborne, OP, Sr. Alvina is still very sharp, and has a vivid memory of the history of her beloved Kansas Community.
Sr. Alvina gathered with friends, family, and her Sisters from the Dominican Sisters of Peace in Kansas to celebrate her 100th birthday on February 17, 2018.