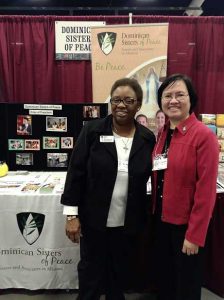 How often does one see interstate traffic backed up for Mass? That was the scene on Saturday, February 17, as Sisters from the Dominican Sisters of Peace traveled to the Ohio State Fair Grounds for the Eleventh Annual Columbus Catholic Women's Conference.

More than 3000 women, many with children in tow, joined for Mass, speakers, and sisterhood throughout the day – and the Dominican Sisters of Peace were everywhere. Vocation Ministers Sr. Pat Dual, OP, and Sr. Mai Dung Nguyen, OP, met with women to discuss vocations and publicize the upcoming "Come and See" retreat in Central Ohio. Sr. Ana Gonzalez served as a Spanish translator for attendees, Associate Mary Delaney was a Conference volunteer, and Sr. Louis Mary Passeri accompanied Sr. Nadine Buchanan, who attended as a Conference speaker.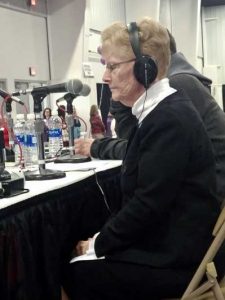 Sr. Nadine Buchanan addressed the group regarding her ministry to trafficked women in Central Ohio. In her interview with Columbus Catholic radio station St. Gabriel radio, Sr. Nadine discussed how her ministry with trafficked women was inspired by a local survivor. In her speech, she presented a video about her ministry and offered tips to help parents prevent trafficking from affecting their families. Click here to view Sr. Nadine's video.