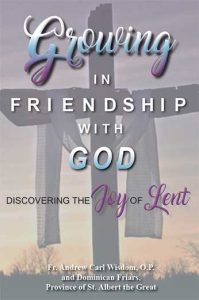 Chicago, IL, February 2, 2018 – The Dominican friars of the Central Province invite you to journey with them through Lent via their latest publication, GROWING IN FRIENDSHIP WITH GOD: DISCOVERING THE JOY OF LENT (New Priory Press, 2018).

This book serves as a convenient resource on the daily Lenten readings, providing reflections from friars across the province—some young, others not so young, and even some who have gone before us. Fr. Andrew Carl Wisdom, O.P., offers contemplative accompaniments to each reflection in the form of daily prayers, challenges he calls, "Doer of the Word Received," and simple hints to make your Lenten journey impactful, memorable, and transformative.
Visit www.newpriorypress.com/lentwisdom today!