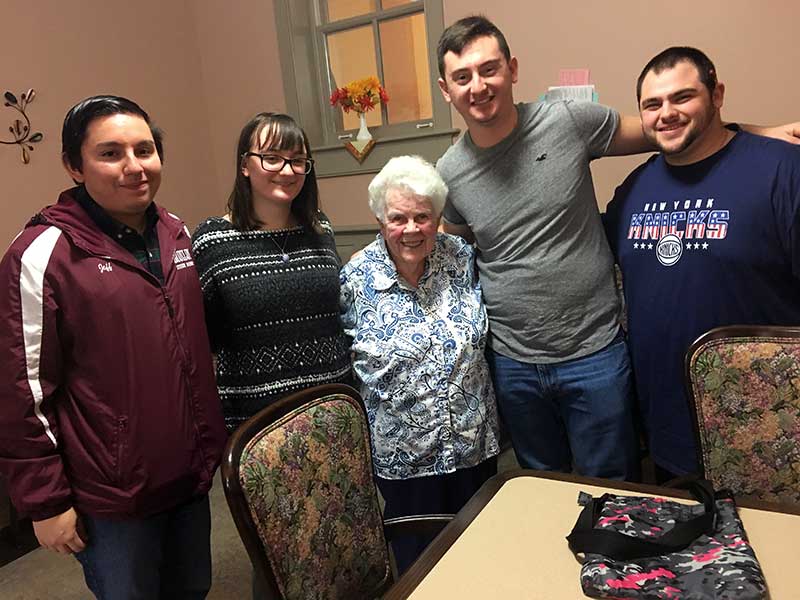 (Amityville, NY) – Religious Sisters and college students laughed and chatted at Queen of the Rosary, the Motherhouse of the Sisters of St. Dominic of Amityville, NY on November 6, 2017, during National Vocations Awareness Week. Students sat at small tables to interview Sisters as part of their Spiritual Autobiography class at Molloy College in Rockville Centre which has been a tradition for the past twelve years.

"People don't get an opportunity to see what a Sister is and this was a chance to explain my life," commented Dominican Sister Marianne Miller. "It was meaningful to me." Sister Marianne shared her story with student Fatima Shamurai. Fatima is Muslim and S. Marianne is Catholic but they connected on a deep level.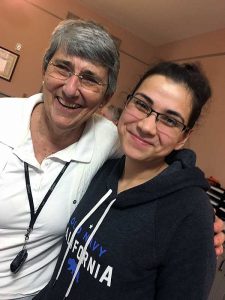 Fatima asked Sister Marianne who her favorite saint was. S. Marianne's answer surprised her. "Her parents were her favorite saints," said Fatima. This touched Fatima who recently lost her grandma. S. Marianne encouraged her to continue to talk to her grandmother, "To call my grandma in my heart" especially with questions or in times of need, Fatima explained. After the encounter, both believers hugged.
S. Marianne said, "I realize how our faiths are so alike. We are on different paths, but our love of God is at the head of it all."
"The interviews are an enriching experience for both the students and the Sisters," said Dominican Sister Alice Byrnes who teaches the class. "Students today have little or no opportunity to meet Sisters. There is a mystique about people who are committed to God, and the students are delighted to discover that the Sisters are normal, down-to-earth people. This helps the students to recognize that they also have a spiritual life, which they may not have realized before this experience."
Students asked many questions that day—from the Sister's favorite ministries to how keep their own faith stoked. Victoria Kaufmann, 21, who attended public school from K-12 was excited to sit down and converse with a Religious Sister. She found out that Sister Catherine McGuigan led an amazing life teaching adults, yet also had normal experiences ranging from the challenges and joys of communal living to her love of eating dark chocolate. "I learned how much she has done with her life and for a lot of people," said Victoria. And also, "They (Sisters) are just like the rest of us!"
As part of their Spiritual Autobiography class, students will read autobiographies from various religious traditions such as St. Augustine, Dorothy Day, Elie Wiesel and Ghandi. The class culminates when the students write their own spiritual autobiographies.
To learn more about the Sisters of St. Dominic of Amityville, please visit http://www.sistersofstdominic.org.