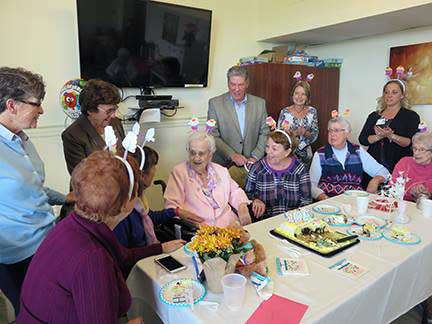 Sister Grace Regina Wingenfeld not only celebrated her 106th birthday on November 9, 2017 but this year also marks her 90th year as a Sister of St. Dominic of Amityville.

After all these years, she's still preaching the Good News! In a recent interview, she told Newsday and News 12 (Long Island's largest newspaper and TV station), "Do the best you can and entrust the rest to God."
Sister Grace entered Religious Life in 1927 when she was 15 years old after having the Sisters of St. Dominic as teachers in Brooklyn.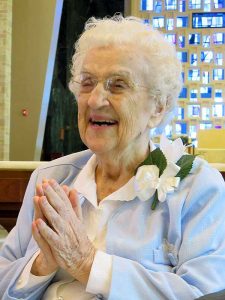 Her life has been a long journey, but the common thread has been teaching – whether it was teaching math, psychology or English as a second language. Later in life, she taught spiritual life seminars and offered workshops. Even after she retired, she led weekly Scripture classes at Dominican Village, a nearby nursing home. The theme for her life became, "Teach wherever you can," she has said, noting that she is part of the Order of Preachers.
S. Grace also earned a bachelor's degree in education and a master's in mathematics from St. John's University, as well as a doctorate in counseling and guidance from Fordham University.
Whenever she speaks about various aspects of her life, she concludes with "I loved it!"
There are two other Dominican Sisters of Amityville who are 100 years or more including Annette Marie Sledzaus and Francis Dominici Piscatella.
Here are links to other news coverage about S. Grace's 106th birthday and 90th jubilee: