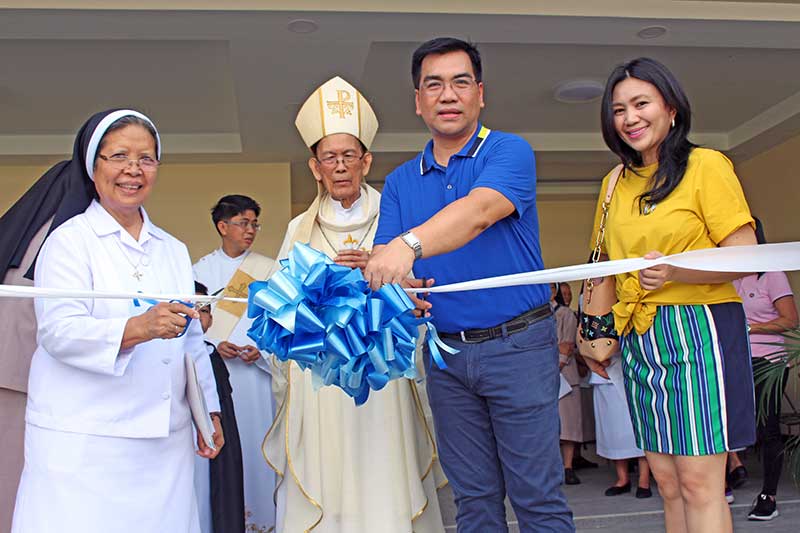 By Sister Zenaida Nacpil, OP (Chapter Prioress, Our Lady of Remedies Mission Chapter)
August 28, 2017, Angeles City, the Philippines – The Adrian Dominican Sisters of Our Lady of Remedies Mission Chapter blessed a second school building of Dominican School of Angeles City – the Virgin de los Remedies Building – on August 23, the Feast of St. Rose of Lima.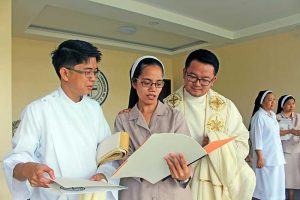 Most Rev. Paciano B. Aniceto, DD, Archbishop Emeritus of the Archdiocese of San Fernando, presided over the joyful event, assisted by Father John Tordera, Deacon Herwyn Bulaun, and Sister Michelle Salalila, OP.
Dominican School of Angeles City, located in the impoverished Barangay (village) of Mining, Angeles City, opened six years ago with three kindergarten students. At the time of the construction of the new building, the enrollment stood at 238 students in grades kindergarten through 10. The new building was constructed to house six more classrooms and spaces large enough for school Masses and physical education, to allow the school to add grades 11 and 12.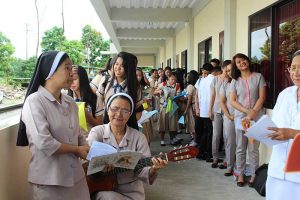 The blessing of the new building included ribbon-cutting ceremonies in various areas of the building. The ribbon for the main entrance to the lobby was cut by Sister Zenaida S. Nacpil, OP, Chapter Prioress and Engineer Allan and Maricel Gatpolintan. Leilani Samson-Cunanan, Deputy Superintendent of Education for Angeles City, cut the ribbon for the right staircase while the ribbon for the left staircase was cut by Teresita Celis. The ribbon for the Business Office was cut by Sister Rosita Yaya, OP. Sister Liberty Mendoza, OP, cut the ribbon for the chapel.
Sisters, special guests, friends and benefactors shared in joy and gratitude for the occasion. Sister Gudelia Kabigting, OP, and students in grades 9 and 10 led the choir in the festive singing.
The new building, supported in part with a grant from the Adrian Dominican Sisters, is a concrete way to implement the Enactment from the 2016 Adrian Dominican General Chapter, calling on the Congregation to "create resilient communities with people who are relegated to the margins, valuing their faith, wisdom and integrity."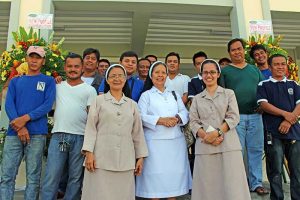 The Dominican School of Angeles City is located in the Clark Freeport Zone – the former U.S. Clark Air Force Base – where the young are at risk of becoming involved in the sex trade, human trafficking, or drugs. The school provides affordable Catholic education to children from low-income families. Academic training in accountancy, business, and management, in tandem with eco-faming, care of creation, and training in culinary vocational skills, are being built up for the senior high school students in the new building.
Members of the Our Lady of Remedies Mission Chapter express their deepest gratitude to our Congregational leaders, Sisters, friends, and families, benefactors, and all who supported this project financially and through prayer.