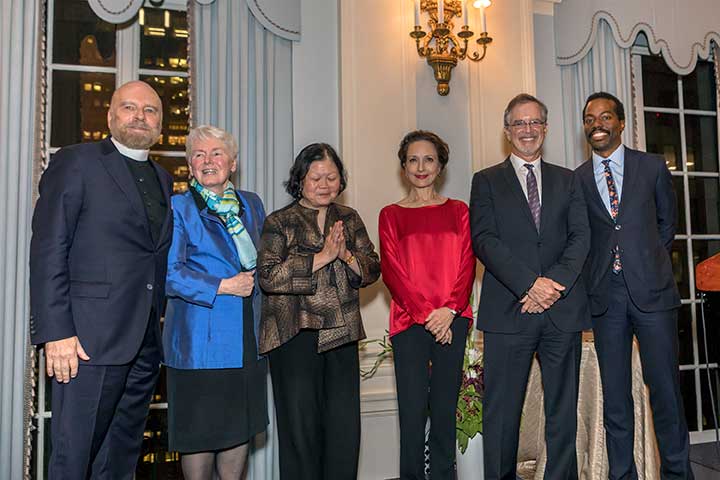 New York, NY – On Monday, September 18, 2017, Sr. Margaret Ormond, OP, was presented with the Breukelein Institute's Award of Merit.  The award was given at the Breukelein's annual Gaudium Awards Dinner held at the Yale Club.

Sr. Margaret is the President of the Dominican Academy, a Catholic college preparatory school for girls founded and supported by the Dominican Sisters of Peace, and located in Manhattan, NY. Her work at the Dominican Academy, as well as her numerous other ministries around the world, was recognized with this honor.
In his presentation speech, The Very Rev. Dennis Corrado, Provost of the Brooklyn Oratory congregation, said "If it is true that fidelity is the greatest proof of love, then Sr. Margaret Ormond is an unchallenged example of that. A Sister of Saint Dominic for over 50 years, she has literally served others globally: Asia, Africa, Europe and here at home. Inspiring and assisting women, young women to be educated, independent and caring.  In her quiet, refined way, she has lived out what her founder St. Dominic advised: Arm yourself with prayer rather than a sword, with humility rather than fancy clothes."
"I was truly humbled to receive the Award of Merit," Sr. Margaret said. "The Oratorian Priests and Brothers show such a greatness of spirit – they reach out continually to the poor and needy, and invite others to join them. I am honored to share in their mission."
Sr. Margaret is a native of Brooklyn, NY, and entered the Dominican Order in 1962. She spent most of her ministerial life in Connecticut, Ohio and Illinois, where she worked in education, formation, and preaching with Parable and leadership.
Sr. Margaret has ministered as a consultant on Leadership Among African Religious, and facilitated Dominican congresses in the Philippines, El Salvador, South Africa, Kenya, Peru and Hungary. In 1998 she became the first International Coordinator of Dominican Sisters International (DSI). She was named the first Prioress of the Congregation of Dominican Sisters of Peace in 2009. She has also served on the boards of Ohio Dominican College and the Sieben Foundation.
Sr. Margaret holds a bachelor's degree in history from Ohio Dominican University. She also earned a bachelor's degree in sacred theology and licentiate of sacred theology from Pontifical University of Saint Thomas Aquinas.