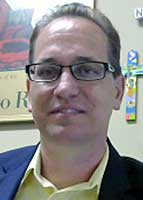 By Cassie Vazquez (Editor)
When the Dominican Sisters Conference learned that Fr. Brendan Curran, OP (Province of St. Albert the Great) was appointed the new North American Dominican Co-Promoter of Justice, Peace and Care of Creation, I contacted Sr. Marcelline Koch, OP (Dominican Sister of Springfield) and Fr. Brendan for an interview about their collaborative work and what it means to be a promoter of justice.
Cassie:  When were you appointed North American Co-Promoter of Justice and Peace?
Sr. Marcelline: "I was appointed in 2014 and reappointed in March 2017."
Fr. Brendan: "I was appointed at the end of June 2017."
Cassie:  What does "North American" include? It doesn't only include the U.S., is that correct?
Sr. Marcelline:  "It includes Canada. In terms of the world, it also includes Mexico. Mexico in the Dominican justice constructure goes with Latin America and the Caribbean because their language and issues are much more similar to Latin America than they are to the United States. So for us, it's just U.S. and Canada."
Cassie:  How does collaboration work as Co-Promoters?
Sr. Marcelline:  "As the sister promoter, I'm appointed by Dominican Sisters International (DSI) and my responsibility is for engaging the sisters in the congregations, especially through the promoters. Brendan is appointed by the Master [of the Order] and has responsibility for [engaging] the friars in North America around justice issues. So our responsibilities are for our own groups of people. However, what we've tried to do always is to work together to collaborate as we do justice work."
Fr. Brendan:  "While we have formal histories in the Dominican sisters and the friars, I personally feel, and I know Marcelline has shared the same, that the collaborative nature of Dominican family is of upmost importance to emphasize that we belong to a family order, not a friar order . . . But I do believe it speaks to something bigger. We are the Order of Preachers . . . We believe that while there are some formalities of how we are named, we're trying to find ways to make it a collaborative leadership. And it's emerging."
Cassie:  What does it mean to be a justice promoter?
Sr. Marcelline:  "I've learned from our sisters in Latin America, they use the word animate, they speak of an animator. And sometimes that always resonates with me when you talk about promoter . . . I see my role as doing some analysis on justice issues, and I'm not the only one doing that of course—the promoters are too; and then helping to educate people about those issues, and promoting or animating people to take action in some way . . . [and] a lot of it has to be networking and communication."
Fr. Brendan:  "I would concur with the sense of 'animador,' the sense of animating in our memberships of respective Dominicans—of how a constitutive part of the Gospel is living the justice piece. One goes with the other, they're not just separated apart . . . So say the primary function would be animate local groups, communities, individuals, to recognize that aspect in what they're doing but also how there's a pathway of how they can engage in our civic life that is what we're engaged in from our Gospel mission."
Sr. Marcelline:  "For us as co-promoters too I think a big part of our work is that networking and keeping the groups connected in some way. One of the things that we do and it [happens] almost every two years . . . the promoters do gather and it's a support system for ourselves. [I]t's also a way to talk about what's happening, what are the signs of the time, and what do we want to focus on. And out of that we develop our Call to Justice."
Thank you to Fr. Chuck Dahm, OP (North American Co-Promoter from 2008-2017) and to all the North American Dominican Justice Promoters for their justice work!