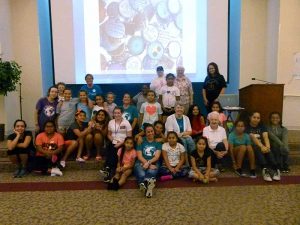 Columbus, OH – Girls from all around Columbus, OH, joined together at the Martin de Porres Center from July 17 – 20 for a week of exploration at the Girls for Peace summer camp. The Martin de Porres Center is a community outreach ministry of the Dominican Sisters of Peace.
The 25 girls, ages 8-12, spent the week interacting with each other and various Sisters from Congregation. Through crafts, games, technology and field trips, the campers practiced teamwork and conflict resolution, expanded their own creativity, and learned presentation and public speaking skills. As important, the camp provided an environment for the girls to meet and interact with Catholic Sisters in a way that explored and encouraged religious life.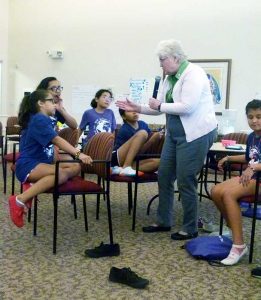 The campers were exposed to global social justice issues through documentary videos, and  they were  challenged to come up with solutions. Sisters helped to moderate the groups of girls as they created PowerPoint presentations to explain their ideas for creating a more just and peaceful world.
As a reflection of the Congregation's commitment to ecological justice, the young participants traveled to Shepherd's Corner, a ministry of the Dominican Sisters of Peace. This 160-acre farm offered a perfect setting for hands-on learning about farming and ecology.
Throughout the Camp's activities, Dominican Sisters of Peace acted as guides, helpers, and even dancing partners, with the goal of giving the young campers a fun introduction to community life and the Dominican charism.
"We really consider this to be a vocation event," said Yahaira Rose, Director of the Martin de Porres Center. "While the camp was meant to be fun and educational, it was also an introduction to our Sisters, and to religious life. Many girls never see a Sister outside of a church setting. The Dominican Sisters of Peace wanted to give these girls the opportunity to experience life in the community, and let them begin to see the consecrated life as an alternative from this very early age."
The Girls for Peace Camp was funded by the Catholic Foundation of Columbus as part of their on-going efforts to encourage vocations in the Diocese.
As a ministry of the Dominican Sisters of Peace, Martin de Porres Center is dedicated to serving others. The Center partners with local agencies, churches and other organizations to respond to the spiritual, social and educational needs of God's people.