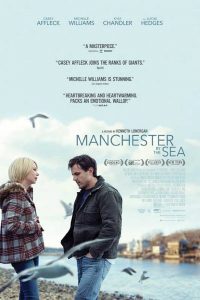 Movie Review by Fr. Tom Condon, O.P.
Manchester by the Sea plumbs the depths of human grief and sadness. It's a tough film to watch, yet it's honest. The movie's characters are flawed, but real. Life is full of unexpected twists and turns that they must deal with. Grace is at work in the movie. But, as with life, grace works gradually, over time, offering hope.
As the movie opens, Lee (Casey Affleck) works as a custodian in a Boston apartment building, dealing with tenants, shoveling snow, and living alone in a one-room apartment. Through flashbacks, we learn that Lee was once married to Randi (Michelle Williams), with three children. Life seemed happy then. Now in his small apartment, Lee is stoic and sad. He walks with shoulders slumped, looking down. Lee is the kind of guy who goes to bars, drinks too much, and gets into fights.

One day at work, Lee gets a phone call telling him that his brother Joe (Kyle Chandler) has died suddenly. Joe had been diagnosed with congestive heart failure, but had been stable for some time. Lee is called to the small town of Manchester, on the Massachusetts coast, where Joe lived with his 16 year old son Patrick (Lucas Hedges). After going to the hospital, Lee goes to retrieve Patrick from hockey practice after school, and inform him of the sad news of his father's death.
After the funeral, Lee is surprised to find that he has been given custody of Patrick. In the lawyer's office, Lee becomes agitated. What will he do? His job is in another city. Lee is fond of Patrick, but is totally unprepared for this turn of events. He wonders why Joe never discussed this with him. When the lawyer suggests that Patrick could stay with Elise, his mother, Lee is adamant that this is not an option. In a disturbing flashback, we see Joe, Lee, and a young Patrick walk into their house, seeing Elise half-naked, passed out on the couch. Lee tells the lawyer he doesn't even know where she is, and he does not want her back in Patrick's life.
Also, through flashbacks, we witness a terrible tragedy in Lee's own life, involving the death of his children, explaining why he and Randi are no longer together. Lee has never recovered from the trauma of this incident, bearing such an awful loss. Hence Lee's unease with the prospect of being Patrick's guardian.
Writer-director Kenneth Lonnergan explored similar territory in the acclaimed 2000 film You Can Count on Me in which a woman unexpectedly has to become caretaker to her mentally ill adult brother.  Family ties play an important part in Lonnergan's work. As we all know, family responsibilities can come calling in unexpected times. Both You Can Count on Me and Manchester by the Sea involve the unexpected difficulties of being family.
Scenes with Lee and Patrick show that they love each other, but are hampered by the grief they both feel over Joe's death, in addition to past losses (Lee's children and Patrick's absent mother).  In addition, Patrick is a 16 year old, juggling school, sports, friends, and not one but two girlfriends. Joe was the strong person who held the family together.  How can they cope with life when Joe is suddenly taken from them?
There's a great scene late in the film where Lee and Randi run into each other on the street. Randi has remarried and has had a child with her current husband. Randi still cares about Lee, and wants to see him healed and able to move on from the past. Lee has a hard time with this chance meeting and walks away. When Randi reaches out to Lee, asking forgiveness and telling him he's a good man, Lee cries "There's nothing there!" like a wounded animal. It's a phenomenal scene, in which both characters let out the emotions that are buried deep inside them. Michelle Williams only has a few brief scenes as Randi, but she gives a great performance, which is being recognized by critics.
Young actor Lucas Hedges gives a fine performance as Patrick. But it's Affleck who carries Manchester by the Sea. Probably best known as Ben's younger brother, Casey comes fully into his own in this film. His grief, anger, and self-loathing explode in a few scenes. Otherwise, he carries so much within himself.
I should warn potential viewers that there's a lot of profanity in the film. Along with the above-mentioned scene with Elise, there are sexual scenes involving teens which were disturbing.
I expect that Affleck, Williams, and perhaps young Hedges, will receive Oscar nominations along with Lonergan and the film itself.  Although this is pretty heavy going, Manchester by the Sea is not as bleak as it may sound. There is some humor in the midst of grief. The final scene between Lee and Patrick strikes just the right tone. Everything is not "fixed" but time and grace have done some healing. We have reason to hope that life will get better for this wounded family.