Submitted by Sister Peggy Ryan, O.P. (Sinsinawa)
This week, upon returning to my ministry at the Food Pantry, the dedicated volunteers with whom I work, were what one might call skeptical of our journey to Standing Rock to accompany the native people in their search for justice. "Why did you go?" they wanted to know. "Sister," they said to me, "we need you here."  "How can you possibly change anything?"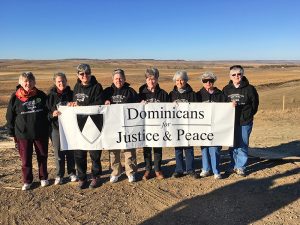 As I began to show my pictures, explain the story of the pipeline, and outline the potential damage this corporate work could do to Earth, especially the waterways on native lands, each of the volunteers stopped asking questions and started listening. When they learned that this pipeline was originally assigned to land to a white community and then moved to the land of the native peoples, each volunteer expressed indignation. A realization grew among them that the treatment of the native people resonated with their own experience as immigrants. They expressed sympathy and empathized with the plight of the community that has formed at Standing Rock. "Sister," one said to me, "when you go back, take me with you."
The volunteers with whom I share this ministry were especially touched by the stories of the communal living in the camps at Standing Rock. One came to me much later and told me she had been remembering all day about her own life as a child in a village of rural Mexico.
Personally, I was touched by the beauty of the land. I close my eyes even now and see the rolling hills that meet the sky at the horizon's edge, jetting rock formations, blue skies full of migrating birds, fall earth tones of russet and gold, and rivers that danced with the wind.  I began reflecting during the weekend on how the beauty Earth offers to us is such a precious gift. This beauty is incarnational. I look for this beauty. I am renewed and energized by it. I felt recommitted over the weekend to treasure the gift of Earth's beauty, especially in water. How can I/how can we use water more responsibly?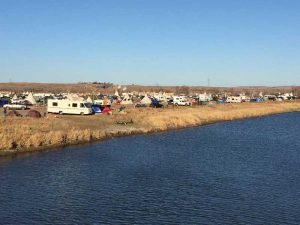 Each camp maintained a sacred fire. Day and night this fire was attended. It was the center of all camp activity and a place of prayer and ceremony. I felt the immense presence of God at the fire. I wanted to sit there all day. The eight of us were invited to participate in a medicine pipe circle prayer as invited guests. I touched upon the beauty and depth of the native spiritual life. It was important to me, especially in light of our anti-racism training, to listen carefully to what the native peoples say about the role of religion in the losing of their language and other assaults on their cultural identity. One speaker at the sacred fire spoke of the offensiveness of "government and religion." The eight Dominicans talked about how disturbing our religious garb would be here. I, personally, felt the need for recognition of our role in White Christianity's atrocities toward our native sisters and brothers and the need to ask forgiveness. How do we take off the "habit" of these past sins? How do we become a presence of healing and forgiveness?
Finally, this weekend offered new opportunities for practicing accompaniment. In planning our trip, Julie Schwab, OP spoke with Kateri Mitchell, a Native American and Sister, in order to hold ourselves accountable. Sister Kateri said she was pleased and would go with us if she could. In our initial sharing, we asked ourselves how were we to act in our desire to be present, to be aware of our role as guest and listener. Accompaniment meant not asking or relying upon our native sisters and brothers to be our cultural guides and hosts or hostess. It was our job to listen deeply and follow the practices set up for camp life. For example, in an effort to be self-sustaining, as the camp practices request, we brought our own food each day.  As we walked through the Oceti Sakowin (the proper name for the people commonly known as the Sioux) and Sacred Stone Camps, we worked at maintaining an attitude of respect and offering a prayerful presence. In our practice, we were gifted with the respect and prayerful presence of Earth, of the other guests at the camps, and our native sisters and brothers.
I am grateful for the immense privilege of this amazing opportunity.