Submitted by Sister Ceil Lavan, O.P. (Blauvelt)
"The Dominican Sisters of Blauvelt, NY are committed to working against the dangers of Global Climate Change by working for systemic change and legislation that will protect the environment and all life on Planet Earth. We have publicly made this commitment in collaboration with the Dominican Sisters of Amityville, Caldwell, Hope and Sparkill. Transitioning from fossil fuels (coal, gas and oil) to sustainable energy (sun, wind and water) is part of that work. We support actions attempting to stop the construction of new fracked gas and oil pipelines like the Dakota Access Pipeline (DAPL) and the AIM Pipeline, which will pass dangerously close to the Indian Point Nuclear Power Plant on its way under the Hudson River."
The North American Dominican Call to Justice challenges Dominicans to stand in solidarity with our Native Sisters and Brothers.

It is therefore only natural that we would support the Standing Rock Sioux Nation and the hundreds of indigenous tribes who have come to stand with the Sioux in their opposition to the North Dakota Access Pipeline. I had the honor of representing the Blauvelt Congregation in joining three Adrian and four Sinsinawa Dominican sisters in Standing Rock, North Dakota for two days last week where we stood in solidarity with several thousand indigenous and non-Indian supporters in communal prayer and action in support of indigenous sovereignty and against DAPL.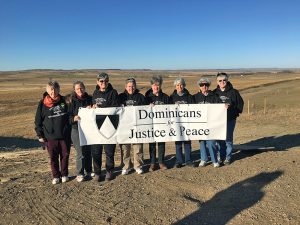 It was humbling to see the depth of prayer, love, courage and community demonstrated by those camping in tents and tepees as they took care of everyone's needs for food, wood, water, propane, construction work, medical care, and legal assistance. People worked on directing traffic, making signs leading visitors around the growing camps, and spent lots of time in prayer circles and meetings planning for actions and preparing for winter as well as training people to participate in public actions with the water protectors.
Their prayerful and peaceful actions against the pipeline are often met with violence by the militarized local and neighboring police forces and the National Guard. They need our prayer and support."