"Holistic Accompaniment is about seeing the person as a whole person. We want them to feel seen as an individual, to feel valued. We want them to know their worth."
– Sr. Josefina "Pina" Bejarano Padilla, M.E. KBI's  Shelter Coordinator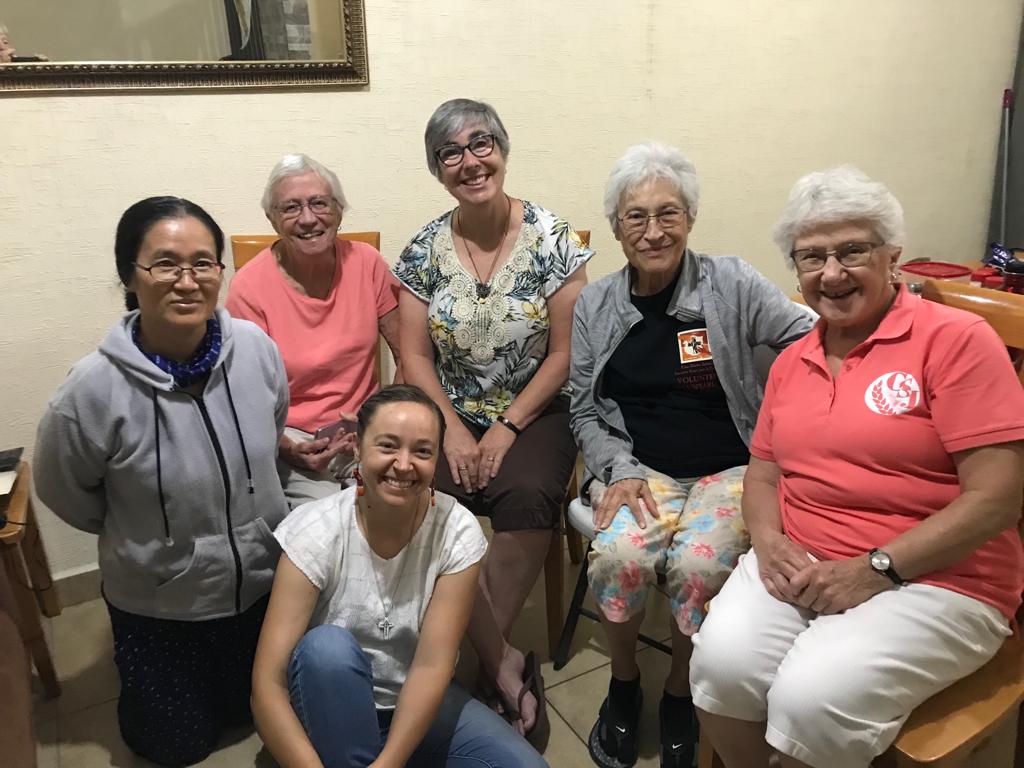 Sr. Judy Lu McDonnell served as a volunteer at the U.S.-Mexican border in Nogales, Sonora, Mexico for the month of September as part of the "Sisters Walking with Migrants" Kino Border Initiative—a binational, inclusive Roman Catholic organization created in 2008. This initiative was inspired by the spirituality of the Jesuits and a community of Mexican Sisters, the Missionaries of the Eucharist, and for Sr. Judy Lu, it was an opportunity to "be with, accompany, and listen to migrants share stories on their particular journeys to freedom, justice, and a sense of wholeness with some chances of making them laugh."
The Kino Border Initiative (KBI) operates out of "both Nogales", across the border from each other in Arizona and Sonora, Mexico. The vision of KBI is migration with dignity. The Mission is to promote humane, just, and workable migration. The services provided to migrants are the following: meals and clothing, counseling with a social worker, psychological counseling, medical assistance, immigration legal orientation, and referrals to immigration attorneys. KBI also provides temporary shelter for up to eighty people at a time, especially families with small children and pregnant women.
Sr. Judy Lu and four other Sister volunteers were given and in-depth orientation on the local reality and the migrant reality,  which included a day-long excursion in the blazing sun in the Ari-zona desert, walking a path well-traveled by immigrants heading north.  That experience, as well as a walk along the 30-foot high border wall topped with razor wire, emphasized the reason so many migrants cross the border in open, dangerous areas. With their hearts filled with sorrow, anger, and empathy, the newly bonded Sister team began four weeks of communicating in Spanish, preparing and serving meals, along with the kitchen staff and local volunteers, for 300 or more guests morning and afternoon. One essential learned skill was stirring scrambled eggs in a pan so large the spoon was the size of a paddle for a kayak! The Sisters suffered a few cuts and burns and learned to dance and joke and laugh while working with the dedicated staff.
Afternoon duties included meeting with the migrants shortly after their arrival to obtain biographical information that was entered into a database as a way of registering the guests and determining their immediate needs.
Sr. Judy Lu believes that asylum bans and walls are not the answer to these tragic human situations that cause massive migrations. The U.S. must focus on support for democratic governments and on efforts to rid countries of marauding gangs. In addition, the U.S. government should prohibit U.S. corporations from exploiting the people of other countries through unfair labor practices, usurping native lands, and polluting local rivers in the exploitation of local resources. These would be the just means of decreasing the migrant flow to the north. Many migrants have expressed that they would want to stay in their home countries if they could feel safe there and earn a living wage.
On a final note, Sr. Judy Lu expressed her "gratitude to the staff and many local volunteers at KINO Border Initiative who serve several hundred people daily, 24/7!  They work tirelessly with love, dedication and joy and has been an inspiration to me.  They were my teachers and mentors and are now my friends. I am also grateful to the Hilton Foundation for sponsoring this past month of Sisters Walking With Migrants."