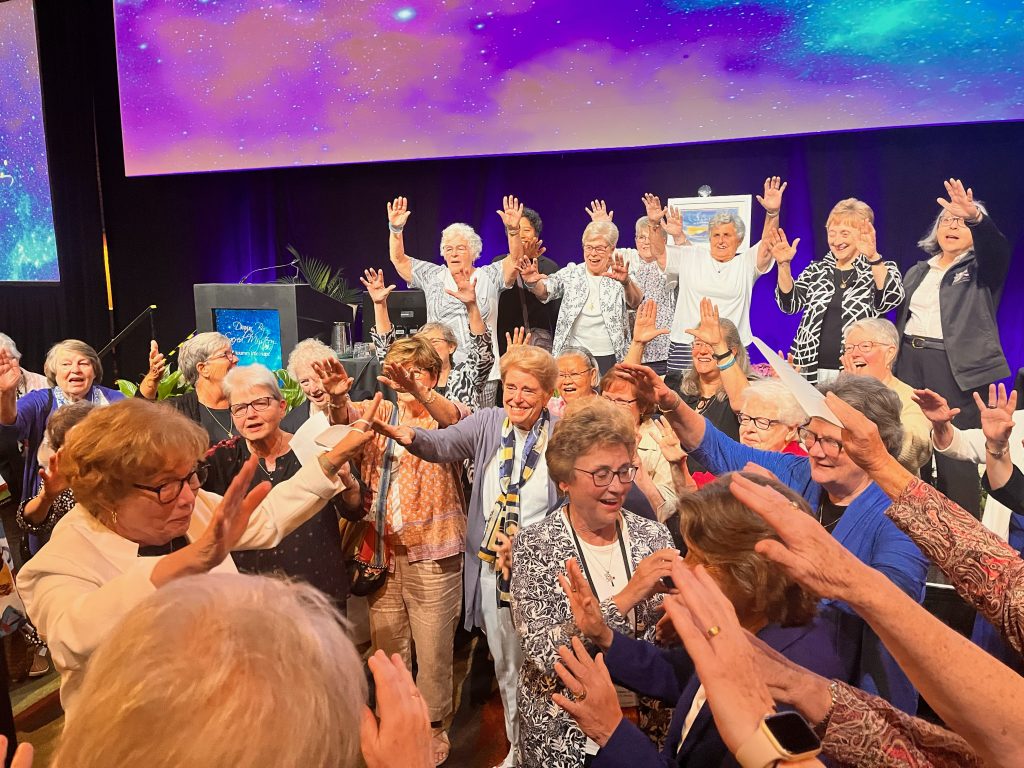 August 29, 2023, Dallas, Texas – Shortly after retiring from her ministry as President and CEO of Catholic Charities USA (CCUSA), Donna Markham, OP, PhD, received the highest honor of the Leadership Conference of Women Religious (LCWR): the Outstanding Leadership Award. The presentation occurred on August 11, 2023, during the closing banquet of the LCWR's 2023 Assembly in Dallas, Texas. Maureen Geary, OP (Grand Rapids), President of the LCWR, presented the award.
The LCWR is an association of nearly 1,270 elected leaders of Catholic women's religious congregations – including the Adrian Dominican Sisters – representing about 66% of the 39,000 Catholic Sisters in the United States.
More than 800 Sisters in attendance – and countless others watching on live stream – were treated to a video outlining Sister Donna's five-decade career, accomplishments, and positive impact. She was noted as a "trailblazer, advocate, and preacher of the Gospel."
Sister Donna was the first woman to serve as President and CEO of Catholic Charities USA, a national network of Catholic agencies serving in areas such as food and nutrition, affordable housing, immigration and refugee services, integrated health, Catholic leadership, and domestic disaster relief.
Sister Donna also served in leadership for the Adrian Dominican Sisters as a member of the General Council from 1986 to 1992 and as Prioress of the Congregation from 2004 to 2010.
"Anyone in this room could be standing here," Sister Donna said while accepting the award. She thanked the LCWR for her 37 years of involvement. "I walked among giants,
and I was so honored and blessed to come into relationship with such wonderful, fine, strong women," she said.
"We are all so proud and deeply grateful to Donna for her eight years of outstanding service in leading Catholic Charities USA," said Sister Elise D. García, OP, Prioress of the Adrian Dominican Congregation. Sister Elise said the award presentation was "deeply moving and inspiring, as were Donna's words of acceptance. It was a joy at the end of the banquet to have all of us Adrian Dominicans joined by every other Dominican in the huge hall, offering Donna our Dominican blessing."
The Outstanding Leadership Award was the most recent of many honors that Sister Donna received in recognition of her leadership and dedication to people in need. In March, the U.S. Department of Health and Human Services recognized her as one of the nation's top women of faith leaders. For several years, she has been recognized as one of the Nonprofit Times' Power and Influence Top 50 leaders of nonprofit organizations.
U.S. President Joseph Biden expressed his gratitude for Sister Donna's "trailblazing leadership [which] opened the doors of opportunity wider for future generations of women" and for "more than four decades of care for the most vulnerable among us."
This fitting tribute from President Biden was read by Melissa Rogers, Executive Director of the White House Office of Faith-Based and Neighborhood Partnerships, at the gala event in Washington, D.C., honoring Donna on June 16. Sister Donna also received tributes from the office of the Papal Nuncio; numerous Washington colleagues; Adrian Dominican Associate Kathy Almaney, CCUSA Board member; and CCUSA staff members as they celebrated her accomplishments in a joyful ceremony emceed by Donna's brother, Bob Markham.