Three Decades of Service at Notre Dame University Celebrated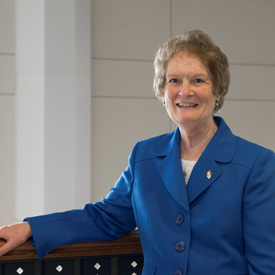 Columbus, OH – How do you honor a woman whose service has touched thousands of young people? After Dominican Sister of Peace Kathleen Cannon retired from Notre Dame, the University chose help students – the people to whom she had ministered for more than 30 years – succeed. The new Sister Kathleen Cannon Endowment for Excellence will assist students facing educational costs concentrate on academics rather than expenses and help to level the playing field for Notre Dame students from less fortunate backgrounds.
The endowment will also support the establishment of the new "Sister Kathleen Cannon Award for Excellence in Undergraduate Advising." The award, announced by the Dean of Notre Dame's College of Science Santiago Schnell, DPhil, on March 8, 2023, will recognize excellence in undergraduate advising in the College of Science. Applications for the inaugural recipient are being accepted now, and the award will be announced later this year.
Dean Schnell says that the creation of this award, and its naming after Sr. Kathleen, "is a memorial to her incredible dedication to Notre Dame's students and the remarkable impact she has had on their lives."
In her more than three decades at Notre Dame University, Sr. Kathleen Cannon served as associate provost, acting director of the Institute for Pastoral and Social Ministry, an associate professor of theology, and as Associate Dean of the College of Science. As a founder of the Women's Committee at the University, she was also a driving force behind the founding of the University Committee on Women Faculty and Students and Notre Dame's Early Childhood Development Center.
She was honored by the University with the Arts and Letters Award of Appreciation (2014), the Dockweiler Award for Excellence in Undergraduate Advising 2012-2013), and in 2017, the Provost's Distinguished Women Lecturers Program was renamed in her honor as the Kathleen Cannon, OP, Distinguished Lecture Series.
Sr. Kathleen's influence was more than academic. Rahul Ramani '18, now in medical school at Kansas City University, says, "She was always calm and centered, and faith plays a huge role there…she had a calming presence."
This sense of calm, which helped so many of the students with whom she worked, has been commemorated with the opening of the Sr. Kathleen Cannon Interfaith Prayer Room, located in one of the campus science buildings.
This new space is intended for prayer, reflection, and meditation, according to Mary Prorok, PhD Assistant Chair of the Department of Chemistry and Biochemistry at Notre Dame.
Prior to her ministry at Notre Dame, Sister Kathleen was on the faculty at Chicago's Catholic Theological Union where she taught preaching. She has also taught theology at Albertus Magnus College and Ohio Dominican University, both founded ministries of the Dominican Sisters of Peace, and has held visiting positions in preaching at Princeton Theological Seminary and Wesley Methodist Seminary.

Sister Kathleen received her bachelor's degree in mathematics from Ohio Dominican College, her master's in religious studies from Providence College and her doctorate from the Catholic University of America.
Since her retirement in June 2022, Sr. Kathleen has been a resident of the Mohun Health Care Center in Columbus, OH. Mohun is a long-term care facility founded for consecrated religious founded by her congregation, the Dominican Sisters of Peace.