New Orleans, LA – Zimbabwe and Zambia are two neighboring states in South Africa. Despite the distance of more than 400 miles between them, two Dominican sisters are connected through their work in education. Both Sisters are members of the Dominican Sisters of the Sacred Heart of Jesus, and are sponsored by the Dominican Sisters of Peace as they earn advanced degrees in Education at Ohio Dominican University in Columbus, OH.
Next January, Sr. Hilda Chanyau, O.P. will become principal at Emerald School for the Deaf in Harare, Zimbabwe. In that role she will be responsible for supervising staff, building relationships with students, monitoring the school, enforcing disciplinary codes, and performing administrative duties.
Sr. Florence Kapongolo, O.P. has similar responsibilities as principal at Trinity Girls' Secondary School, formerly Kabunda Girls. The school is located in a district called Mansa, one of the rural provinces of Zambia.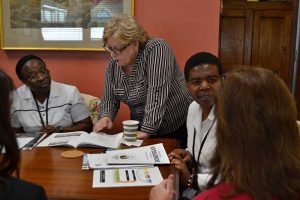 The two sisters are on leave from their positions to study at Ohio Dominican University in Columbus where they are working on their Master of Education degrees. As part of their practicum research, they visited St. Mary's Dominican High School, a founded ministry of the Dominican Sisters of Peace, to learn about the school's climate, culture, and strategies to create a positive learning environment. During their visit they observed classes, met students and faculty, and the school leadership team. They also had interview meetings with President Dr. Cynthia A. Thomas, Principal Carolyn Favre, Vice President of Dominican Catholic Identity Jill Cabes, Campus Minister Claire Gallagher, Assistant Principal/Academics Jennifer Drouant, and Dean of Student Services Katey Alexander.
"As part of a world-wide Dominican Order, the St. Mary's Dominican High School community experiences the blessings of multiple expressions of the Dominican charism," said Dr. Thomas. "Visiting with our Dominican Sisters from Africa, Sister Hilda and Sister Florence, provided opportunities for us to learn from each other and to discuss effective methods and organizational structures of Dominican Catholic education in contemporary settings."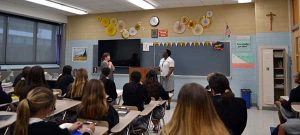 Focusing on Collaboration: Parent and Community Involvement for her practicum, Sr. Florence said her visit to Dominican highlighted several aspects of Dominican's operations that would benefit her school. These include leadership's collaboration, school collaboration with parents, focus on the school mission, promotion of Dominican identity and charism, and empowering students with values and skills.
"I am grateful that I had the opportunity to visit your school. My eyes were opened," she said.
For her practicum, Sr. Hilda's concentration is Continuous Improvement and Instruction. The visit broadened her understanding of developing a school improvement plan beyond infrastructure and equipment and to look at all aspects that affect student instruction and learning. "The need to review and evaluate the curriculum and provide teachers with professional development in instruction is paramount to the school and student achievement," she noted, adding that experiencing a school through a site visit and interaction with its community gives a different perspective from reading about the subject.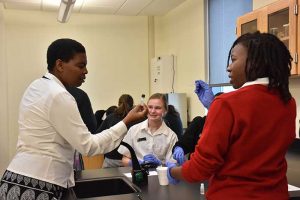 "I am able to write my project based on what I experienced in the school," she said, noting there were several programs that could benefit her school. Among these, different leadership leading the pillars of the Dominican charism, students' participation in clubs which helps them discover their talents and share responsibilities, a student/parent handbook, school accreditation as part of the improvement plan, newsletter, and professional development programs for the teachers on instruction and curriculum.
On the last day of their visit, the school was preparing for its annual Open House. Sr. Hilda said the involvement of students, parents and alumnae was impressive and is another program to share with her school when she returns home.