Submitted by Gloria Marie Jones, OP
Evolved from "Futuring Dominican Charism for Mission: Sisters and Lay Partners Together"
How do we pass on the Dominican charism at this critical moment in our history?
 How do we create new, relevant expressions of the Dominican charism to ensure its ongoing vitality through the formation of the present and future generations of sisters and lay partners?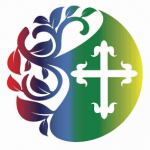 Feb. 21, 2019 saw the kickoff of the Dominican Charism Initiative. Twenty-seven Dominican sisters and lay partners engaged in energetic dialogue and creative planning in response to these questions during the three day Charism Dialogue. The participants included educators, theologians, formators, charism animators, associate directors, the Dominican Association of Secondary Schools (DASS), the Dominican Youth Movement and 3 Dominican Missionary Sisters of the Sacred Heart from Zimbabwe, Zambia and Kenya along with their Zambian Congregational Prioress from England. Sr. Catherine Bertrand, SSND, facilitated the event.

More