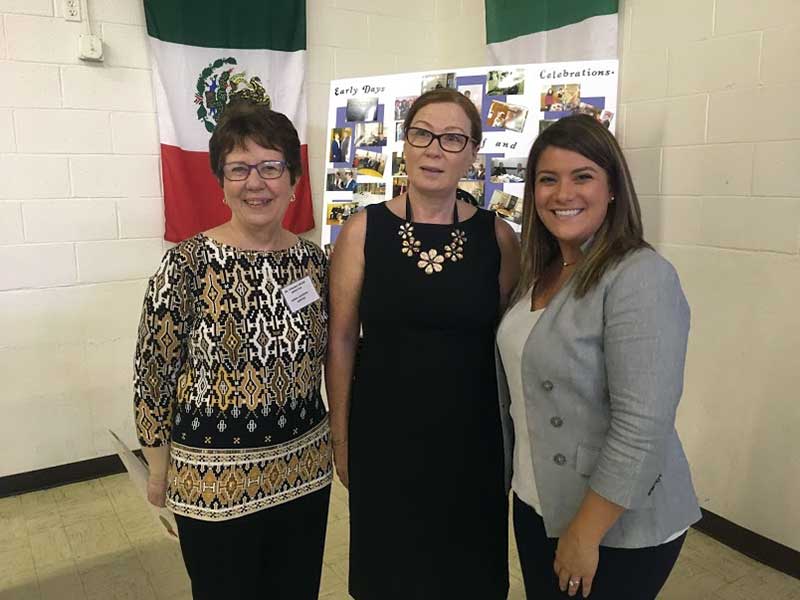 New Britain, CT – Since the late nineteenth century, Polish immigrants have been settling in New Britain, CT, to find work in its many manufacturing facilities. By the 1930's, one quarter of the city's population was of Polish descent.
Today, nearly 20% of the population of New Britain is foreign-born, and more than 40% are Polish. And while New Britain's Little Poland neighborhood offers a welcoming place to enjoy their culture, these new residents still need a place to learn a new culture and a new language. Since 2008, the Siena Learning Center, run by the Dominican Sisters of Peace, has been that place for immigrants of all nationalities.
The Siena Learning Center marked its tenth anniversary on September 2018. The Center was also honored with a Proclamation from the Mayor of New Britain, Erin Stewart, who attended the Anniversary celebration.

Dominican Sisters of Peace Virginia Bruen, OP, Director, and Cornelia Coughlin, OP, Assistant Director, welcomed Congregational members, members of the Center's Board of Directors, volunteer tutors, and most important, adult learners and their families to celebrate 10 years of service to New Britain and its residents. The Siena Learning Center serves more than 150 learners a year with English as a Second Language (ESL) training.
What makes the Siena Learning Center special is its one-to-one teaching approach and the flexibility it offers its learners. "Many of our learners work low wage jobs with restrictive hours," says Sr. Virginia. "Working with a tutor, however, our learners can find a way to fit their studies into their schedules."
"Many of our learners are unemployed or underemployed because of a language barrier," Sr. Virginia continues. "They want to work, and to provide for their families, but their inability to speak English makes it easy for them to be exploited by employers. In addition, many have faced violence because of the current political climate. By helping our learners learn English, we also help them build confidence. This translates into better job opportunities and greater involvement in their communities. Here at the Siena Learning Center, we build contributing members of our community."
The Siena Learning Center's anniversary celebration was featured in the New Britain Herald as well. To read the article, please click here.