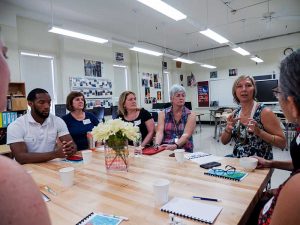 On Thursday, September 6th, the Sisters of Saint Dominic of Caldwell had the privilege of hosting Spirituality Day 2018 for the administrators, faculties, and staffs of our sponsored academies: Lacordaire Academy (Upper Montclair, New Jersey), Mount Saint Dominic Academy (Caldwell, New Jersey), and Saint Dominic Academy (Jersey City, New Jersey). The day allowed personnel to take a step back from the buzz of 'Back-to-School,' engage with each other, and share individual gifts within the context of Dominican spirituality.

The theme for the day, inspired by the song, "Dream Small," by Josh Wilson, invited participants to explore the need for balance amidst personal, professional, family, and household expectations. The day's keynote speaker, Dr. Nancy Blattner, Ph.D., President of Caldwell University, asked the group to consider today's stresses and challenges and then offered a few practical courses of action to mitigate those unexpected bumps in the road:
Dr. Nancy Blattner, Ph.D., President of Caldwell University and Dominican Associate, offers insights on the need for balance in the midst of today's challenges.

Start and end each day with prayer

Create a 'sacred space' for yourself, even if that space has to be within yourself
Repeat a short prayer or mantra every so often so that you consciously think of God throughout the day
Keep a journal as a powerful pathway to self-discovery
Find someone with whom to pray and/or reflect as often as possible – even if it's by text message – to refill your 'spiritual tank'
In keeping with the day's theme, Dr. Blattner also reminded the group to "think about one thing you are willing to do tomorrow differently. Just one. Start small because as the song says, 'these simple moments change the world.'"
Participants then divided into breakout groups according to school departments and areas of responsibility. After lunch, everyone regrouped for a guided reflection with Sister Alice Uhl, OP. As the day drew to a close, Sister Alice offered a reminder that "each one of you is a blessing in God's name. The gift that you are is what you offer freely to your students, parents, and colleagues. Continue to 'dream small.'"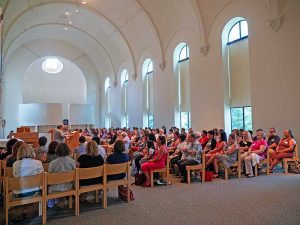 A full gallery of images from the event can be found here.