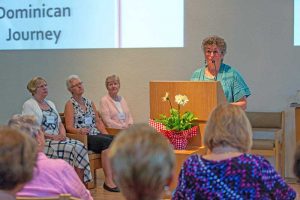 On Saturday, August 4th, over one hundred Caldwell Dominican sisters, former members, associates and Dominican laity had the opportunity to reconnect and share their individual and collective journeys while celebrating the Feast of Saint Dominic. After Sister Patrice Werner, OP, opened the celebration by offering the gathering a warm welcome, Dr. Kathy Detlet, D.Min., assisted by Jane Albert, Lynne Kennedy, Catherine Cappiello, OPA, and Sister Mary McGuinness, OP, lead the group in prayer, which closed with the Dominican Blessing. Those gathered were then treated to a visual presentation of the congregation's journey from the beginning of the Dominican Order through the Brooklyn and Jersey City years to present-day Caldwell, New Jersey.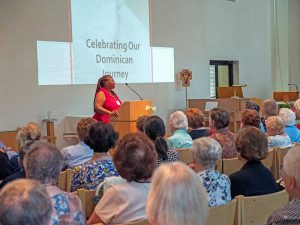 A panel discussion followed with former member Dr. Rosemary Castelli, Dr. Valerie Lewis-Mosley, OPA, and Sister Alice McCoy, OP, each reflecting on her Dominican experience. Dr. Castelli spoke of how the Dominicans shared their sense of giving of themselves with others. "In the postulate and novitiate, we were told that the essence of our lives was to be found in giving of ourselves every day. I've tried to live by that example," she said. Dr. Lewis-Mosley reflected on how contemplative prayer has been her foundational rock. As a healer and a social justice advocate, she expressed how "truth and mercy are core to my living life as an African American woman. Both allow me to speak with Holy Boldness and to be forgiving even in the face of adversity. Truth and mercy protect me from being hardened by the racism that I face 24/7. The Dominican charism allows me to live joyfully no matter what challenges come my way." Sister Alice shared, "I am so grateful for the formation I had from my Community in the Vatican II era to take responsibility for the formation of my own conscience through study and contemplation and the call to share with others the fruits of that contemplation."
Time was then given for all gathered to share personal reflections and memories. Words like "empowering" and "transformational" peppered the remarks. While comments came from vowed members, former member, associates, and laity, each with a different Dominican experience, the common thread woven throughout was "Once a Dominican, always a Dominican." Former member Jane Albert summed up how being Dominican continues to influence our lives: "We seek truth, we contemplate, and we give to others the fruits of our contemplation."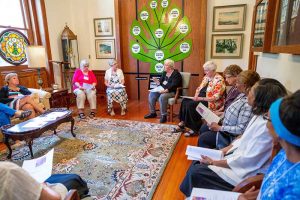 The morning program ended with a festive lunch and was followed by optional activities, including an open house at Sacred Heart Convent, visiting with sisters at Saint Catherine's Convent and Healthcare Center, and a ritual of remembrance for those sisters who have died. At this remembrance gathering in the Heritage Room led by Sister Patricia Crowley, OP, each woman named one or a few sisters and shared fond memories of the lasting impact these sisters have had on them. The ritual, created by former member Jane Selinske, closed with this prayer:
We know you have not left us completely. Your spirit is present here in many ways we have yet to discover. Thank you for what you added to our lives when you lived among us. We cherish your memory and will hear your whispers in the wind, your love in the warmth of the sunshine, and your gladness resounding in the song of the birds. The beauty and the tranquility of this place assure us that all shall be well.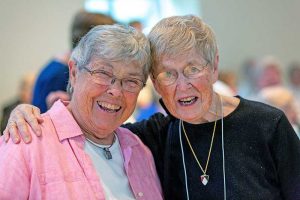 The wonderful day concluded with Mass celebrated by Reverend Michael Hanly in the chapel at St. Catherine Convent. Sister Honora Werner, OP, offered a reflection. Choir members Jemma Miller, OPA, Angela Beharry, and Maria Williams, OPA, from Our Lady of Sorrows Parish in Jersey City, New Jersey, joined Sister Judy Rudolph, OP, and organist Angelina Rispoli in providing music for the liturgy.
What a celebration indeed!
(Be sure to check out our full gallery of images here)