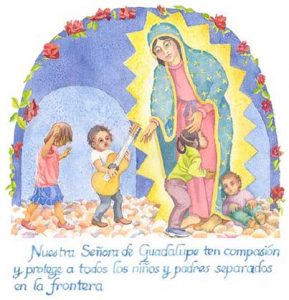 In seeking ways to respond to the crisis of children being separated from their parents at the southern border, San Rafael Dominican sister and artist, Joanne Cullimore, OP painted an image and added a prayer in Spanish. It is a modern day retablo, an artistic expression she is familiar with from many years of painting trips she took to Mexico, New Mexico and other parts of the southwestern U.S.
The San Rafael Dominicans have made it into a prayer card and are inviting prayers for the children and their parents.
Please click here for the prayer card.
"Nuestra Señora de Guadalupe ten compasión y protege a todos los niños y padres separados en la frontera."
"Our Lady of Guadalupe, have compassion and protect all of the children and parents separated at the border."