Columbus, OH – On June 14, 2018, people of faith throughout Ohio took part in rallies to bring attention to the issue of family separation enacted by the Trump administration. The event, titled "Familias unidas no dividas" (Families belong together), was part of a national day of action to protest the administration's policy of separating children and their parents at the southern border of the country, a policy that has been roundly citizen by leaders of all faiths as well as by the United Nations and other humanitarian groups.

In Columbus, OH, families and faith leaders took to the streets on Thursday, June 14, gathering at Goodale Park to talk about and protest for the end of family separation. Top of mind was a recent "military-style" ICE raid that took place in near-by Sandusky, OH, where more than 100 were arrested and a number were immediately deported.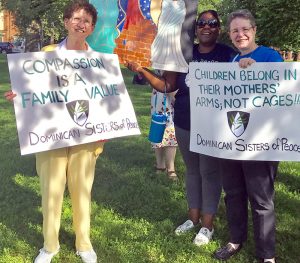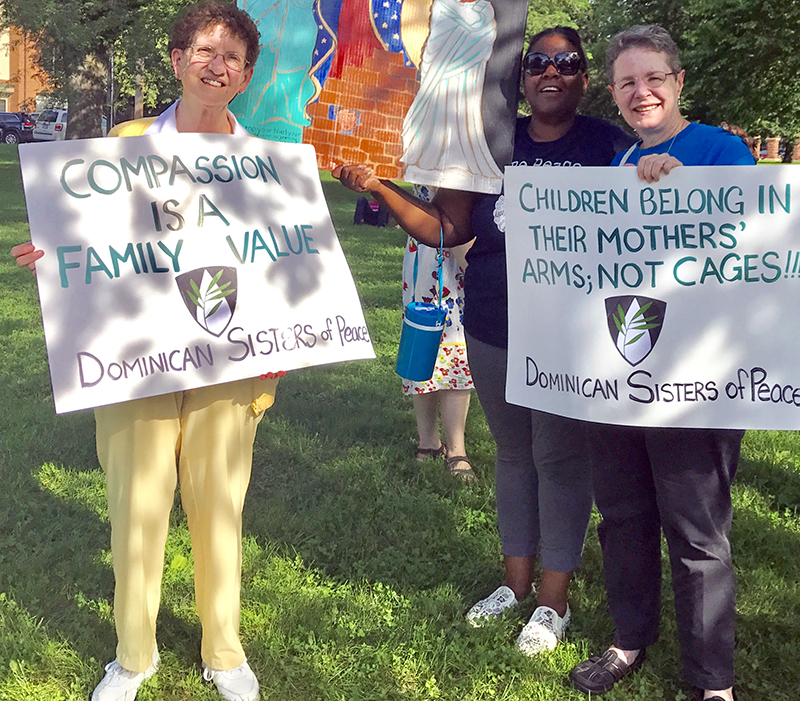 Dominican Sisters of Peace Justice Promoter Barbara Kane, Sr. Shawn Fitzpatrick and staff member Gaye Reissland attended the Columbus, OH event.
In Akron, OH, about 200 people came out for the "Families Belong Together" protest held at the corner of Main and Mill. Participants listened to speakers, lit candles to show solidarity, and spoke out against federal immigration practices that separate children from parents caught entering the country illegally or seeking asylum.
Dominican Sisters of Peace from the Akron Motherhouse supported this event, including Sr. Marilyn Mihalic, Barbara Catalano, Daniel Weakland, and Alicia Alvarado.
"What's happening at the border is an affront to the dignity of all God's children," said Sr. Barb Kane, Justice Promoter for the Dominican Sisters of Peace. "Children should not be separated from their parents – and we need to pray today and every day for those fleeing from violence and poverty. Just as important, we need to tell our elected representatives that this is not acceptable, and to demand change."