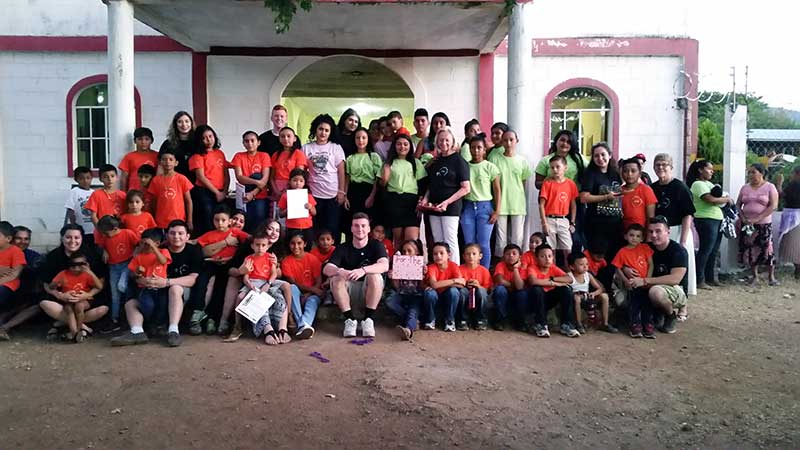 Submitted by: Diane Capuano, O.P.
Thank you for your support in prayer for our trip to El Salvador with Flor Buruca! We felt your love and prayers with us each part of our journey and we hope you felt our love and prayers for you as well! Once again we were challenged, inspired and touch deeply by the wonderful ministry Flor founded in this little village of Sol Naciente.

This collaborative effort between Molloy College and Dominican College began 6 years ago when Flor spoke at the Preaching in Action Conference. After hearing Flor share the work she was doing in Sol Naciente, and in particular, the camp she runs for the children in the village, Ms. Christine Dilts from Dominican College and I knew this would be a wonderful opportunity for our students and our shared passion for Dominican Life and Mission called us to join together in this collaborative effort.
This year, thirteen of us (10 students and 3 employees) had the privilege of being in El Salvador with Flor from January 2nd through January 11th. We were thrilled to have Kathy Friend, one of our Associates, join us!  Everyone loved her!!!!
The camp took place from January 3rd thru January 8th. Over thirty children attended the camp and some of the teenagers from the village also participated as camp counselors. This faith-based camp is deeply rooted in our Dominican Life and, in particular, the 4 pillars.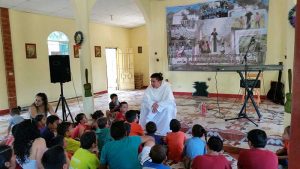 This year, St. Martin de Porres (played by Molloy student Jeff Lozano) visited each morning and led a little "religion lesson" which incorporated his life and the Beatitudes from the Gospel of Matthew. This little session always ended with singing "This Little Light of Mine" in Spanish and English and shouting out in Spanish and in English, "Raise the praise, Minimize the criticize, Increase the peace, and Silence the violence."
The children were divided into three groups and the students were the "counselors" for the children. They participated in music, arts and crafts, and sports. They also participated in Community Service and continued the work they had started last year to beautify the garden and the chapel grounds. It was amazing to see them use rocks and recycled bottles to create walls and enclosures for plants.  We are so not used to this coming from a culture of BUY, BUY, and BUY!
Another aspect of this project that we are part of is the "water project." Currently, the people in Sol Naciente receive water once a week!!! Thanks to the Rotary Club at Dominican College and the hard work of Flor to lay the ground work for this project, a new well will hopefully be completed by August 2018!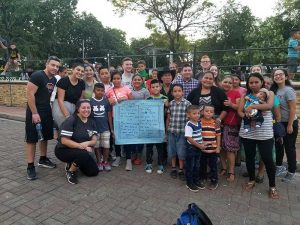 Each night students gather for reflection. One or two students would lead this reflection. This, I feel, is one of the most important aspects of this trip! It gives the students the time to process the experience! When I hear students say …. "My faith has deepened because of this experience" or "My opinion of immigration has changed," then I know the hours of planning and preparation for the trip are so worth it. The graces and blessings received are a gift to all and will remain in the hearts of all those that are part of the experience forever!
Flor's presence, passion and dedication has such a positive effect on the students and on all of us who are part of this experience!  Through her actions, she helps all of us to widen our sometimes limited vision. This gives me great hope!
And the preaching continues in our daily lives…
With love and thanks,
Diane Capuano