Sansbury Care Center, a long-term care facility for religious and lay women and a ministry of the Dominican Sisters of Peace, has been honored by The Business and Professional Women organization of Springfield, KY with the 2017 Business Promoting Women Award.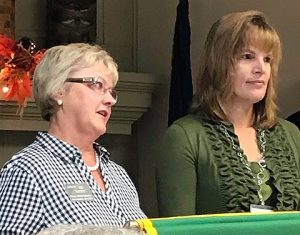 The Springfield Business and Professional Women organization is one of the largest BPW's in the state of Kentucky. The organization celebrates National Business Women's Week, observed annually during the third week in October, by honoring outstanding business women and women-owned and managed businesses in the Washington County, KY, area.
Sansbury Care Center was honored with the 2017 Businesses Promoting Women Award. The facility's predominantly female staff, under the leadership of Administrator Pamela Brooks, offers skilled nursing care, personal care, rehabilitation services and hospice services to the patients of the 59-bed facility. Residents enjoy daily mass and other pastoral care, many social activities, and other onsite amenities.
"We are so grateful for the support of our community, and of course, for the support and prayers of the Dominican Sisters of Peace," Brooks said. "We are blessed with an outstanding staff here at Sansbury, and we are happy to be able to provide loving, professional care to these wonderful ladies."
Built in 1961, The Sansbury Care Center was originally an infirmary for the elderly and ailing Dominican Sisters of St. Catharine. Sansbury became a licensed healthcare facility in 1978. The facility and its staff have received numerous honors and recognition for their outstanding care. Sansbury Care Center is a sponsored ministry of the Dominican Sisters of Peace and located on the grounds of the Dominican Sisters of Peace St. Catharine Motherhouse in St. Catharine, KY,