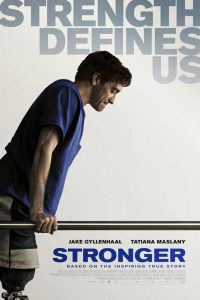 Movie Review by Fr. Tom Condon, O.P.
Stronger tells the story of Jeff Bauman, a man who was in the crowd at the finish line of the 2014 Boston Marathon cheering on his girlfriend, who was running. Jeff was standing near the location where the terrorist bomb exploded. As a result of the explosion, Jeff lost both his legs.

The movie is based on Bauman's book of the same name. It's different from many such true stories of heroism we've seen in the last few years. In many respects, Jeff is not the standard hero type. He is a young man who lives with his mother Patty in a small apartment, and works at Costco. Jeff's relationship with her is co-dependent. Patty is a heavy drinker who tries to control Jeff's life. The two of them even binge drink together.
In an early scene, Jeff is at a neighborhood bar with some friends. He sees his former girlfriend Erin. He would like to get together with Erin again, but she is not so sure. Jeff says he loves Erin, but has broken up with her twice before. She is not eager to begin a new relationship with him. Erin tells Jeff she is running in the marathon. To impress her, Jeff makes a big sign and goes down to the finish line on the day of the race to try to win her back over. That's when the bomb goes off.
When Jeff wakes up in the hospital after the explosion, he finds out that his legs have been removed above the knees. In the midst of all this shock and pain, Jeff finds himself at the center of attention from Boston and the nation. To say that he has a difficult time managing his private life, family, rehab, and instant celebrity is an understatement.
When Erin hears what happens to Jeff, she comes to see him in the hospital. She is a source of strength for him, compared to Jeff's loud, profane family and friends, who constantly bicker. Erin tries to sort out her place in all these relationships. She and Jeff end up getting back together, but, as before, tensions between them arise.
During the long journey of rehab, Jeff's commitment is half-hearted. When Jeff goes to rehab, he is often late and does not want to do the hard work necessary for recovery. Sometimes he doesn't show up at all. Jeff becomes moody, depressed, and drinks too much with his family and friends. He does not understand why many are calling him a hero and a source of inspiration when all he was just in the wrong place at the wrong time.
A turning point in Jeff's story is meeting with Carlos, a man who he had seen in photos, helping Jeff at the site of the bombing. If it had not been for Carlos, Jeff would probably have died. Carlos' sharing of his story, including the tragic loss of two sons, makes an impact on Jeff. Because of Carlos, Jeff is able to throw out the first pitch at a Red Sox game, and listen to the stories of the people who came to see him. Eventually he begins to realize why his means something to others who have struggled to overcome adversity.
Jake Gyllenhaal gives a tremendous performance as Jeff, from the first moment the audience sees him trying to get off early at his job to meet his friends at the bar, to later screaming in pain in the hospital. Gyllenhaal certainly should be considered a front runner for the Oscar.  What I like is the courage of Gyllenhaal and the filmmakers to show that Jeff is not always a likeable character. His dysfunctional family is fighting with each other in the hospital waiting room. His friends spend most of their time drinking beer in the bar.
Tatiana Maslany gives a very good performance as Erin. She is the rock who supports Jeff all along. Miranda Richardson is also good in the less sympathetic role of Patty.
I had tears in my eyes at the end of Stronger. I was very moved by this film. However, the movie is rough going at times, especially the frequent profanity. So be cautioned.