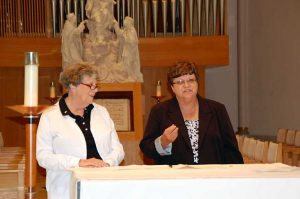 June 1, 2017, Adrian, Michigan – May was a busy month for Associate Life as nine new Associates were welcomed, one in Michigan and eight in Florida. Associates are women and men, at least 18 years of age – married, single, widowed, or divorced – who make a non-vowed commitment to partner with the Adrian Dominican Sisters.

The Ritual of Acceptance for Cheryl Boyce was May 12 in Holy Rosary Chapel at the Motherhouse with her mentor Sister Mary Ann Dixon, OP.
Cheryl and her husband live in Byron, Michigan, and have two daughters – one of whom died tragically at age 13 – and two grandchildren. Cheryl attended the University of Michigan, Oakland University, and Saginaw Valley University to prepare for a career in special education. Now retired, her career included working with Sister Mary Ann for 10 years in religious education at St. Mel Parish in Dearborn Heights, Michigan.
"I am ready to take on the third act of my life," Cheryl said during the ritual. She added she hopes to be active with the Associates and to begin to use gifts that have been dormant.
Mary Lach, Director of Associate Life, also presided at two Rituals of Acceptance in Florida on May 21: at St. Ann's Church in West Palm Beach and St. Joan of Arc Church in Boca Raton.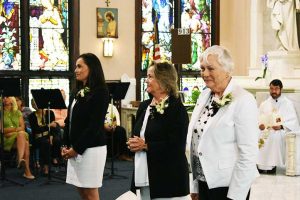 The new Associates accepted in West Palm Beach are Brigitte Valbuena, Glenaan Robbins, and Sylvia Raftery.
Brigitte received Catholic education during law school, where she concentrated on human rights. Active in her church, she served as a leader and director in youth ministry. When she and her family moved to the United States, Brigitte met Sister Margaret Exworthy, OP, while learning English at the DePorres Literacy Center. Sister Margaret is her mentor. Brigitte is a paralegal for the State of Florida, working to end human trafficking.
"As I woman of this century, I feel that no woman should be left behind and be subject to abuse or inequality," Brigitte said. "We must bond together to make sure that our rights be heard and respected, always keeping Jesus and the Gospel as our role models."
Glenaan, a jewelry designer, sent her two sons and daughter – now young adults – to Rosarian Academy, where she served on the board, co-chaired the auction, and was active in other events. A daily Mass attendant, she serves as a Eucharistic Minister, lector, sacristan, and pro-life activist.
Glenaan sought out Associate Life to strengthen her spiritual life, maintain her relationships with Sisters, and develop new relationships with Associates. Her mentor is Joseph Eilese Hukle, OP. "I recognize my spirituality as a journey of learning and growth, firmly grounded in my love of Christ," Glenaan said.
Sylvia became acquainted with Adrian Dominican Sisters at St. Ann's School in West Palm Beach. In 1954, she entered the Adrian Dominican Congregation and loved the prayer life, teaching, and being with the Sisters.
Sylvia decided to live in the secular world, and, in 1978, she met and married Dave, who had two young children. Unfortunately, this marriage did not survive and she divorced in 1980. Her experience led to her current ministry of assisting those who are seeking annulments.
Mentored by her friend Margarita Ruiz, OP, Sylvia has participated in Associate Life events, including Partners IV, last year's Associate Life weekend in Adrian. "I hope to receive friendship, shared prayer life, meaningful conversations about the mission of Jesus in the world today," Sylvia said.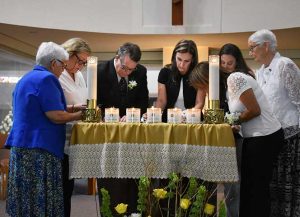 The new Associates from Boca Raton are Brian Herbert, Maria Alejandra Feo, Sandra Castro, Belinda Mussenden, and Maria Lucrecia Figueira. They were mentored by Sisters Carmen Àlvarez, OP, and Frances Madigan, OP.
Brian and his wife Diana Castro, already an Associate, have three children and are both involved in their parish, St. Joan of Arc. An architect, Brian designed the parish center where the reception for the new Associates was held. He is the president and partner owner of his own company and has received numerous awards.
"The Mission and Vision of the Adrian Dominican Sisters has made a strong impression on me and I believe we have been called to utilize our abilities and to share our faith and life with one another, our families and our community," Brian said. "As an Associate I understand I am committing myself to a lifelong mission promoting spiritual communication and encouraging others into the Adrian Dominican mission and values."
Maria, originally from Venezuela, had a wonderful childhood, and her family instilled in her strong spiritual values. Three years ago, she made the difficult decision to immigrate to Florida with her husband Pablo and their three young daughters. Maria works with her husband, an architect, and she is studying international business management and communications.
"Like many immigrants, we had what we believed was a perfect life in our home country, but had to leave and start a new one," Maria said. "It was God's will that put Sister Frances and Sister Carmen in my path to show me His plans for me: that I grow in spirituality, through study and prayer so that I learn to live the Dominican Charism and use that gift to integrate in my relationship with any community that God decides to take me into."
Sandra was born in Colombia in1975, is the sister of Associate Diana Castro, and is a single mother. She holds a real estate license and master's degree in industrial engineering and is the president of her own company. Active in her parish, Sandra is the president of the Santa Ana Circle, a group of 53 women who engage in ministry and charity at St. Joan of Arc Parish. She will be on the board of the Council of Catholic Women.
Sandra has been studying Dominican spirituality for the past three years with a group led by Sisters Frances and Carmen. Her spirituality consists of prayer and thoughtful, contemplative reading. In joining Associate Life, Sandra wishes to commit herself to "lifelong learning and to grow holistically as a mother and a leader." She has a strong desire to serve others and to be "the best version of herself."
Belinda, born in New York to Puerto Rican parents, is the youngest of three daughters. Belinda was sent to Puerto Rico and cared for by her grandmother as her parents were working to move back there. From her grandmother, she learned much about God and prayer. She now lives in Boca Raton with her husband of 20 years and their 17-year-old son. Belinda taught at St. Joan of Arc School, and serves as a lector and Eucharistic minister at the parish.
In joining Associate Life, Belinda shared that she has a clear path on her "journey to seek truth, make peace and reverence life." She identifies with the Adrian Dominican Sisters' mission to seek peace and justice and to preach the Gospel. Her formation as an Associate "has made my faith stronger," she said. "I have learned how to make choices in faith and to act on them."
Maria was born in Venezuela and raised with a strong faith and a determination to serve others. She was educated in Catholic school and is a certified public accountant. She, her husband, and their two daughters, ages 23 and 13, now live in Boca Raton.
"We are very committed to the formation of our daughters, teaching them moral values and principles, teaching them how to be involved with the church, to have God present in their lives, and to be conscious about the environment," Maria said.
"Besides bringing a positive attitude, motivation, and enthusiasm [to Associate Life], I will contribute with new ideas on how to create awareness to save the environment and help those in need," Maria said.