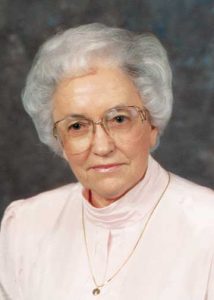 Adrian, Michigan – Sister Nadine Foley, OP, Prioress of the Adrian Dominican Sisters from 1986 to 1992, died on May 13 at the age of 93.
For much of her religious life, Sister Nadine figured prominently in religious circles as a leader both for the Adrian Dominican Congregation and for women religious throughout the nation. She served for two terms as a General Councilor for the Adrian Dominican Sisters, in 1974-1978 and 1978-1982, before being elected as the Congregation's Prioress in 1986.

"Nadine was an outstanding ecclesial woman of the Gospel, Dominican to her very core," said Adrian Dominican Prioress Patricia Siemen, OP. "Nadine's pursuit of truth through her scholarship and writing was a signature hallmark. Her acerbic wit was legendary, her friendships loyal and undeterred, her love of music and beautiful contralto voice vibrant to the end," Sister Patricia said. "We will miss Nadine immensely; she left her mark on the U.S. Church, religious life, and each of us. We now turn to her for guidance as one of our wisdom women in the eternal realm."
During her tenure as Prioress of the Congregation, Sister Nadine was elected to the presidency of the Leadership Conference of Women Religious (LCWR), an association of the leaders of congregations of U.S. Catholic women religious, representing nearly 80 percent of the Sisters in the United States. She also was elected to serve as U.S. delegate to the International Union of Superiors General.
"Sister Nadine led the [LCWR] at a particularly difficult time in its history as it discerned its own identity and the identity of religious life in the contemporary world," said Sister Joan Marie Steadman, CSC, Executive Director of LCWR. "With keen intelligence and strength of character, she led the challenging discussions on these identity questions with church leaders throughout the country, always assuring that the values and integrity of the religious institutions she represented would be protected."
A prolific author of articles on religious life, Sister Nadine also was editor of three books, Preaching and the Unordained, Claiming Our Truth, and Journey in Faith and Fidelity; and wrote two volumes of Adrian Dominican history – Seeds Scattered and Grown and To Fields Near and Far – and a biography of the Congregation's longest-serving Prioress, Mother Mary Gerald Barry, OP: Ecclesial Woman of Vision and Daring. She earned several advanced degrees, including a PhD and MA in Philosophy, as well as an MS in Biology, from Catholic University in Washington, D.C.; and an STM in Scripture from Union Theological Seminary, New York, N.Y.
A native Michigander, Sister Nadine grew up in Newberry in the state's Upper Peninsula. She entered the Adrian Dominican Sisters in 1945, the same year she earned a Bachelor's degree in science from Siena Heights College (now University) in Adrian, Michigan.
In addition to her many years in Congregational leadership, Sister Nadine taught high school for eight years and ministered for nearly two decades as a professor at several colleges and universities, including two of the Congregation's institutions – Siena Heights College and Barry College (University), Miami Shores, Florida – as well as Drake University in Des Moines, Iowa, and Marist College in Poughkeepsie, New York. She also served as Visiting Professor of Ecumenical Relations at Harvard University in 1979. Until last year, Sister Nadine served as the Congregation's historian.
Under Sister Nadine's leadership as Prioress, the Adrian Dominican Sisters focused on personal transformation for the sake of the mission, as well as on social justice issues. The General Council endorsed the sanctuary movement that provided safety for people from Central America fleeing to the United States; promoted the development of the role of women in the Church; and opposed apartheid and racism in South Africa.
Sisters who served in leadership with Sister Nadine – whether during her two terms as a General Councilor or her term as Prioress – describe her as effective, highly intelligent and creative, influential in the Congregation and the Church and generous in her service to others.
"She represented the Congregation so expertly in promoting the women's movement and the many dialogues with the Church authorities of the time," said Sister Rosemary Ferguson, OP, Prioress of the Congregation during the post-Vatican II Renewal years (1968-1978). "The Congregation was blessed in her service to all our Sisters and to the Sisters of the world."
"She was certainly the right person at the right time in terms of carrying the Congregation forward," said past Prioress Carol Johannes, OP (1978-1982). Sister Carol noted Sister Nadine's influence as chair of the committee to rewrite the Congregation's Constitution, which had been approved by the Congregation in 1982. Sister Nadine traveled to Rome several times until the document was finally approved by the Vatican seven years later.
"I learned how to be a good leader from working with her," said Sister Donna Markham, OP, President and CEO of Catholic Charities USA. When Sister Nadine was Prioress Sister Donna was a member of the General Council, and later served as Prioress. "She was steady, thoughtful, and wise; she was always sensitive and listened to our insights and perspectives on any given topic."
Sister Attracta Kelly, immediate past Prioress of the Congregation who also served as a General Councilor during Sister Nadine's term as Prioress, remembered her as a brilliant woman who brought out the best in people and who trusted each one to carry out her responsibilities. "She was always a learner," Sister Attracta recalled. "She was well read, so she was up to date on anything that was going on – and she encouraged that in all of us."
Even after her formal leadership role in the Congregation, Sister Nadine continued to be influential through her writing and frequent speaking engagements on topics such as justice issues, spirituality, religious life, and the role of women in the Church. In addition, she was generous in sharing many of her other gifts, including her gift as a vocalist and lyricist.
Sister Catherine DeClercq, who served as a General Councilor with Sister Nadine, said, "Her theological grounding and her wisdom came through. I think other congregations have recognized that she has been an outspoken symbol of renewal in religious life, and that women are capable of leadership in the Church because she herself demonstrated that."
"Nadine [is] one of the treasures of the Congregation … one of the great, truly great women we've had the blessing to have in our midst," said Sister Barbara Cervenka, OP, who also served in leadership with Sister Nadine. "She has been such a remarkable gift to us and to the Church and to women religious."
Please click here to view Sister Nadine's obituary.